S4K Network Partner For Hampshire Revealed!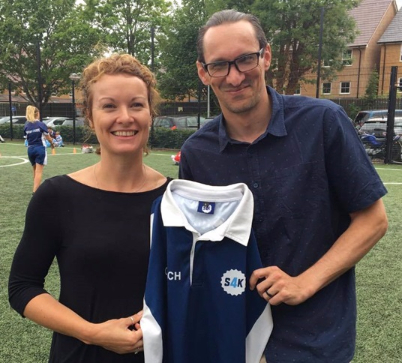 S4K is proud to announce not just one but two Network Partners to continue the expansion of the Sport4Kids Network – Paul Farrow and Jodie Gibbs-Farrow have today acquired the rights to the S4K Brand for the Basingstoke Hampshire Territory and plan further expansion to the Portsmouth and Chichester territories.

Our CEO Steve Jones welcomes the dynamic couple "It is with immense pride and warmth that we welcome both Jodie and Paul onto the ever growing S4K Partner Network. The energy, passion and expertise they bring to the Partner Network will help accelerate the development of the S4K brand in Hampshire and key target territories such as Portsmouth and Chichester. They are an amazing couple and have and great backgrounds in the services industry, sports and entertainment"

"Early on it means that we will be opening new venues this September in Bordon, Fleet and Farnham focusing on Kids Football and Kids Rugby Classes. Kids Dance Classes are planned as well as Cricket and Golf programs. Later we will see venues in Aldershot, Basingstoke, Fleet, Hook and Godalming"

Jodie has had an amazing career and is both a qualified Licensed Victualler and Ski Instructor, a consummate Pilates Instructor with 10 years' experience and has held several posts in the service in-dustry including a Major incidents controller for the Police and a Major Projects Manager for 3 Mobile.

Paul is a passionate sportsman having represented Hampshire County in athletics, rugby, cricket and basketball, is a Learning and Development professional with a background in the music industry having been a sound engineer, a touring rock hopeful, a session player and a tribute band artist.

The couple plan to make a big difference to children's sport and development in Hampshire. They are looking forward to getting into the schools and nurseries of the county to help children have fun and be the very best they can be in both a sporting but personal development.

Jodie said "This is so exciting to bring The S4K Way to Hampshire. It is a great new beginning and the we are looking forward to bringing all the wonderful Sport4Kids products and service to children in our county. The science behind the S4K Way and the methods that are so far ahead of everything else that is out there is inspiring. Our mission is to revolutionize children sports and with Sport4Kids we are confident we can make a big difference."

Paul added "This is a wonderful time to join the expanding S4K Partner Network and Jodie and I are so passionate about sport and children's development that joining S4K as a partner was so compel-ling. We are looking forward to helping children progress over a number of sports and supporting parents to get the best experience and choose the best sports service for them and their children.
Opening our first football and rugby classes in Bordon where we live and service the community will be a big moment for Jodie and I. With my background in cricket and music I am particularly excited at launching the new S4K Disco Diamond Cricket program. There is lots of new things and we cannot wait to get going!".
S4K Co-Founder and COO Dr Mark Gould described the opportunity ahead of Jodie and Paul as "exceptional". "We are all looking forward to working with Jodie and Paul and seeing how they can take the S4K mission into the Hampshire area. These two are extremely talented and motivated individuals with an exceptional chance to make a genuine difference to the community. We are delighted to have them on board".

The S4K Hampshire team are launching new kids rugby classes in Farnham, Fleet and of course where they live in Bordon – you can book now by claiming your free taster by clicking on the following links.
Select Free Taster Location...