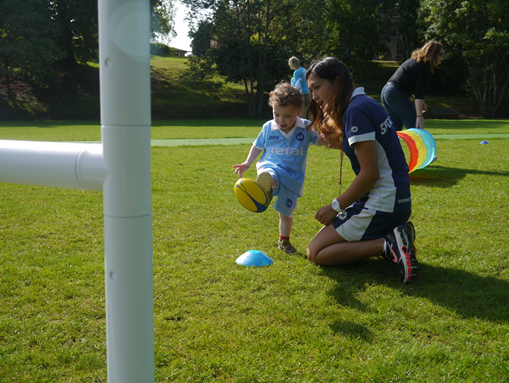 We are delighted to announce the launch of our S4K Kids and Toddler Rugby Classes in Bordon, Hampshire! Rugby classes will be opening on Saturday 9th September 2017 at the Mill Chase Leisure Centre and will cater for children in the following age groups...
Our S4K Rugby toddler and kids rugby classes are truly special. We adopt the teachings of the precise ball handling of the New Zealand Rugby Union side and the Australian Kangaroo Rugby League sides. Precision and skill development are the key to the S4K Rugby philosophy - every child is given a specially designed S4K Rugby ball to spend the lesson with and learn new skills with their friends. We have our own bespoke Rugby curriculum and children and parents can track progress via our S4K Practice@Home books. Once 80% of the book has been passed, children graduate to the next class!
Jodie Gibbs-Farrow and Paul Farrow, S4K Principles in Hampshire cannot wait to get started. "S4K Rugby is a unique product. The curriculum and science that underpins the methodologies - including the Montessori learning approach and child psychology - coupled with the All Blacks and Kangaroos means we will be able to give children a wonderful introduction to this great game. Oh and there are crash mats... who doesn't love crash mats?".
We offer a Free Taster to anybody who would like to pop along and get involved with us in our fun, toddler and kids rugby classes. So why not pop along and see us by clicking the button below?