Sport4Kids are happy to announce the launch of our kids rugby classes in Camberley from March 2018! Our S4K Rugby program is based on the precision ball handling skills of the Australian Rugby League and All Blacks Rugby Union sides, providing children with the perfect introduction to all things rugby!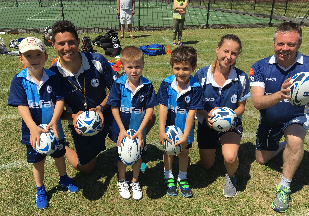 S4K Head of Rugby, George Chetwood said "We are delighted to be offering our S4K Rugby program to the people of Camberley. I think we are going to see lots of new children engaging with the sport and getting involved. The program is great - the ball is specially designed in size and weight for the age of the child and focuses on playing like our Southern Hemisphere counterparts, with lots of tricks and dummies along the way. I'd encourage everyone to come along for a free taster and take a look!".
S4K will be starting with the launch of their S4K Cubs class, which is aimed at 3 to 5 year olds, before rolling out the S4K Tots and S4K Lions programs for toddlers and 5 to 7 year olds respectively.
Get involved today by clicking the "Book Now" button to register your child!