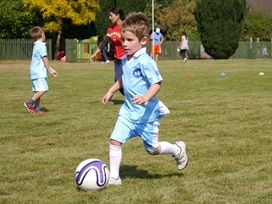 We are exciting and proud to announce that we are bringing our fantastic Sport4Kids Football classes to Rickmansworth, Watford! Our Sport4Kids children's football classes are for a variety of age groups starting as young as 18 months with our S4K Toddler Football classes! We have Classes launching in The Reach Free School on the 12th May, that will be running every Sunday morning from 8:30am. Our Toddlers Football classes for ages of 18 months – 3 years, our Kickers Football classes for 3 – 5 years old, and our Strikers class for 5 -7 years combine fun, entertainment and imagination with football skills. Turning skills learning and drills into fun games and activities Sport4Kids Network Partner Mark Robertson said "Sport4Kids classes are exciting and truly one of a kind, I can't wait to bring S4K to Watford!"
If you click on the book now button at the bottom of the page you can book a free taster session for your child, you can book classes for the opening on the 12th May. We also have a special offer where if you sign up with us at your free taster session you save 50% off your first full month. Book your child for our exciting Toddler and Kids Football classes today!!!
The classes at the The Reach Free School will take place every Sunday morning and be available for the following age groups...

S4K Tots Football (18m to 3 years) – 8.30-9.15am
S4K Kickers Football (3 to 5 years) – 9.20-10.05am
S4K Strikers Football (5 to 7 years) – 12.00-1.00pm
We are also launching our Toddler and Kids Rugby Classes at the same location - click here for more information.
Click the Book Now button below to register for your free taster today!