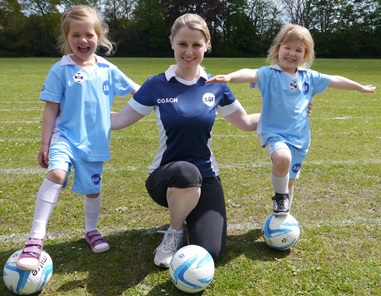 We are excited and proud to announce that we are bringing our exciting S4K football classes to Bracknell, Berkshire!
Our Sport4Kids kids football classes operate across a variety of age groups. Starting as young as 18 months with our S4K Toddler Football classes, we have classes launching at Brackenhale School on the 15th September 2019 and will be running every Sunday morning.

Our Tots Football classes for ages of 18 months – 3 years and our Kickers and Strikers classes combine fun, entertainment and imagination with Football skills. We turn skills learning and drills into fun games and activities!.

Led by our talented team of Coaches and Sports Entertainers, our S4K Football program is based on the Dutch Coerver, Spanish Tiki-Taka and Brazilian Fustal football coaching techniques. We also use the Montessori teaching method to develop toddler and child mini and micro motor skills, blending this with the work of child psychologists to create a technical yet fun and entertaining coaching program.

Sport4Kids Network Partner Charlie Hodgson said "I was first involved with S4K's Football programme when my son, George, was younger. George was at school with S4K's Co-Founder Steve Jones' children and wasn't a natural footballer, being built more for rugby like his Dad. His peer group at school were really sporty and George didn't have much confidence with football until he joined S4K's weekend skills classes. He joined with school friends and made new friends and really built up his confidence and control of the ball. He was a regular player in the S4K Football Club team at weekends, which we really enjoyed watching along with the other parents, with whom we're now friends. Having grown up in nearby Warfield myself, I'm so excited that as an S4K Network Partner I'm in a position to offer children in Crowthorne the same access to S4K Football opportunities I gave my own son."

If you click on the book now button at the bottom of the page you can book a free taster session for your child, you can book classes for the opening on the 14th September. We also have a special offer where if you sign up with us at your free taster session you save significantly on your first full month. Book your child for our exciting Toddler and Kids Football classes today!!!

The classes at Brakenhale School will take place every Saturday morning and be available for the following age groups...
S4K Tots Football (18m to 3 years) – 8.30-9.15am
S4K Kickers Football (3 to 5 years) – 9.20-10.05am
S4K Strikers Football (5 to 7 years) – 12.00-13.00pm
We are also launching our Toddler Rugby Classes and Kids Rugby Classes at the same location - click here for more information.