CHILDREN'S FOOTBALL & CHILD DEVELOPMENT
The S4K philosophy is all about developing children in sports from a child centric perspective. It is actually sport for kids from a kids and parents perspective.
"The S4K Way" looks to build confidence and skills first in our children and gradually increase the level of competition. Skills classes to teach the basics to advance skills to build confidence and through Tournament, GameTime and entry into team festivals and other sporting events to build their competitive journey.
In our coaching classes we combine fun and entertainment with the world's best coaching and child development techniques.
Our tag line is "Fun and Dreams". Children learn best when they enjoy what they do and it is essential that we make very experience fun and engaging for our children. We use films, super heroes, topical songs and chants as well as dragons, bears, tigers, Father Christmas and other mythical and fun figures that capture the imagination of our little ones.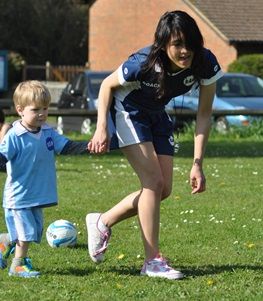 We start with toddlers from 18 months and nurture our talented children through to their teen years. As Parents when we were little we would have dream of playing in an FA Cup Final or competing in the Olympics. Our kids are no different and have their hopes and dreams to play for their school, their favorite team and represent their country at Wembley and so on. As such we help children to develop to their full potential and we have our S4K Player Pathway for their development which can take our talented athletes all the way to the top. We draw upon all the best coaching techniques from around the world to help with your child's own tailored Pathway.
Other values we hold dearly include:
• Inclusive of all kids, background and talents
• Non-elitist sport to include sport for all to be enjoyed by all our kids
• For girls and for boys
• A club for the whole family
We also develop our coaching and events from a parent's perspective. Families are a big part of the S4K club philosophy. In our schedule we include several very affordable family events over the year. Christmas parties, family days out, tournaments, Summer barbecues and our annual Parents versus Coaches charity football match! So get involved and enjoy all aspect of the S4K club membership.
All our equipment is chosen from our philosophy including the use of FIFA's Futsal balls for our football little ones. We have smaller goals, right size pitches and footballs using very small sided games to maximize the involvement from each child.
In our football coaching classes our philosophy is:
Pass like the Spanish
Dribble like the Brazilians
Trick like the

Dutch

...and Entertain Like

Walt Disney

!