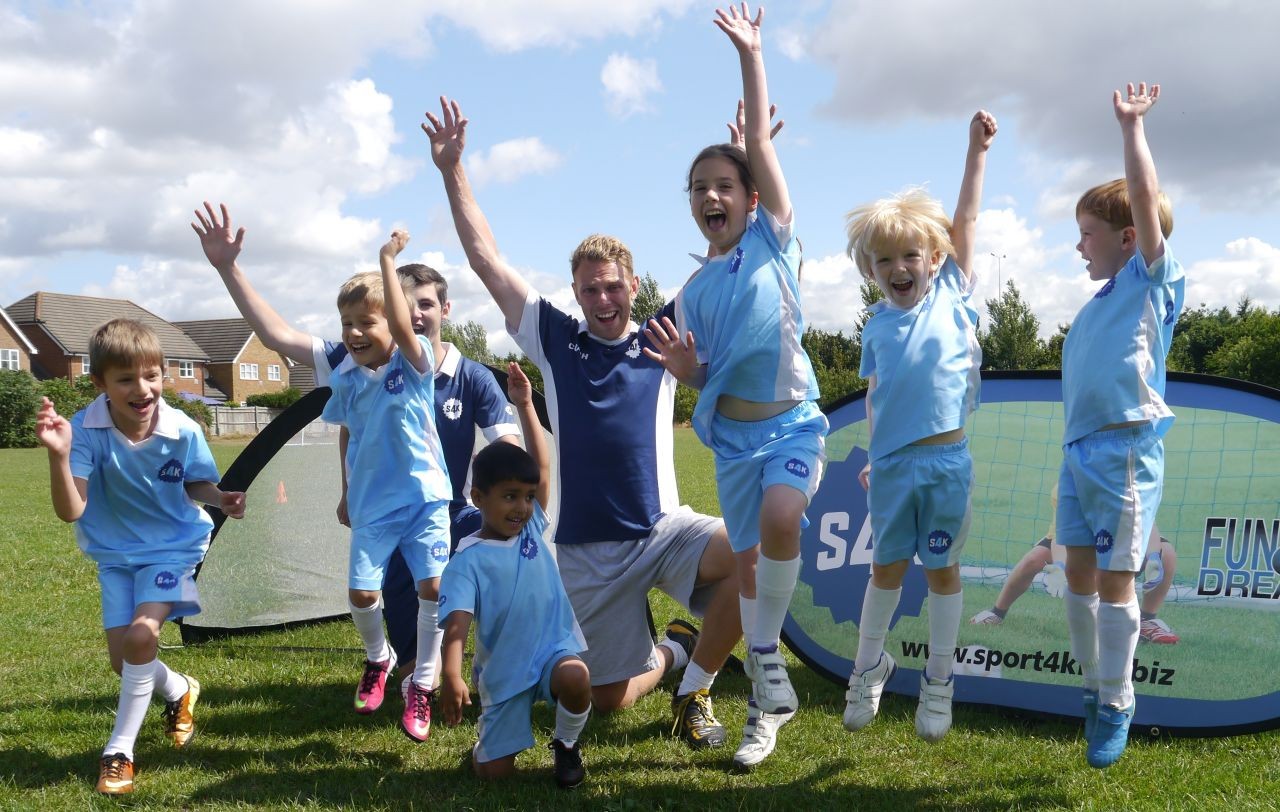 As the new Network Partner for Sport4Kids Beaconsfield Bucks Territory, I would like to introduce myself, tell you a bit about my background and passion for encouraging children to take part in Exercise and Sport. I would also like to welcome you to a free taster in one of our wonderful toddler and kids football and rugby classes.
I have run a successful sports coaching business for more than 10 years, working mostly in Primary Schools in and around High Wycombe. My team of coaches currently work together to instil a love of sport in more than one thousand 4-11 year olds a week. Our focus is of course skill development but we are driven to make PE inclusive and fun for all abilities. It is so important to leave Primary School with a positive attitude towards Physical Exercise and to set the ground stone for the teenage and adult years.
It is my belief that sport not only benefits children physically but also in their mental well being. The World Health Organisation is clear on the value of sports and physical activity; "...... participation in physical activity can assist in the social development of young people by providing opportunities for self-expression, building self-confidence, social interaction and integration. It has also been suggested that physically active young people more readily adopt other healthy behaviours (e.g. avoidance of tobacco, alcohol and drug use) and demonstrate higher academic performance at school".
We advocate introducing children to sport as young as possible, that's why we have toddler football and toddler rugby classes to help them feel at home in a sporting context as they journey through their childhood years and embed good, healthy habits from the start. These classes help them to grow in all sorts of ways whilst having fun. They develop core motor skills and build confidence - being in a sporty environment with their parents and a fun and caring S4K coach is just the best start to their sporting life. You can also have fun catching up with other parents and even making new friends, that can last a lifetime.
Our S4K kids classes are one big community and as children move through the age groups we see an increasing sense of belonging at S4K, it really is special. As a parent to two young children myself I am painfully aware that they grow up too quickly and I have a brief time in which to equip them to flourish in the 'real world'. I see sport as being the building blocks to learning the key skills required to succeed in whatever they chose in life. The new partnership between myself and Sport4Kids will give us a platform to reach more children both in school time and in after school and weekend sessions. With tried and tested sports programmes in everything from Football and Rugby to Tennis, Dance, Golf and in a multi layered class structure from skills classes to our academies - we believe that there is something for everyone.
In our skills classes, each child has their own personal Practice@Home Record Book. As they work and play their way through the S4K Curriculum you will be able to monitor their progress and celebrate their achievements at each stage. Once they have completed 80% of their development stage they get promoted to the next level and we celebrate by awarding them a Certificate of Achievement and present them with their new Practice@Home personal record book for their next level of development. Later on, they can enter our S4K Academy, take part in our internal S4K Tournament and even play in one of the S4K teams in a controlled competitive environment.
My ambition is to change the face of Sport in Buckinghamshire, if I can motivate young children to enjoy sport at any level, they take that drive to stay active with them to Secondary School and beyond. And, maybe, along the way, we will find a future World Superstar or two! So, to give your child the best start in their sporting life, why not try one of our toddler or kids classes? Book your free taster class now for Beaconsfield and High Wycombe and come and see what we are all about.