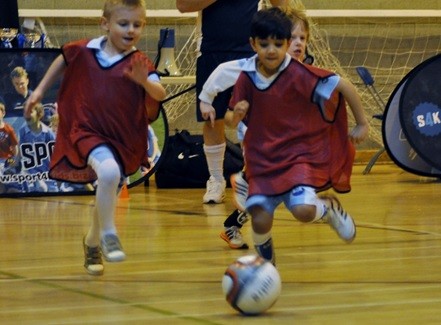 Competition is a complex thing for anyone to get their head around in the football coaching world. There is a fine line between having a healthy competitive streak that drives you on to want to achieve more, and taking things too far in becoming someone who has to turn everything into a competition and always wants to win. This can be difficult for children especially to understand and so some parents may feel that it's better to shield their kids from competition until they are old enough to understand it. However, there are many reasons why competition can actually aid in the development of a child and cause them to excel in a variety of ways. Introducing a degree of competitiveness into their lives from an early age may be just what they need to help them succeed.
It Increases The Chance Of Success
In the right environment, competition in football coaching has been proven to encourage children to perform better than they would have done without it. This is due to many different reasons including the fact that they are enjoying it more because of the competitive element and that they are self-perpetuated by their continued learning. In team activities, such as sports classes or certain after-school clubs, they are also spurred on by the fact that they don't want to let their friends in the team down and so they are more determined to do well.
It Relieves Pressure
When children reach a certain age there is a lot of pressure on their young shoulders; particularly from a learning perspective. They have to prepare for exams and perform well during in-class assessments; all whilst they are still trying to figure out who they really are. Competition can help to relieve this pressure by giving them a healthy outlet and a release from all the important things they are going through. Sport does this by creating an environment filled with camaraderie, where everyone can relax whilst competing against each other in a less formal way. Whilst there could be quite serious consequences to failing a test at school, children can feel at ease in the thought that there are no such ramifications to losing on the sports field. This healthy release will give them a nice distraction and cause them to improve academically as a result.
It's Not Good To Always Win
Without competition there is a danger that children can become to accustom to everything always going their way. As parents we often give them the enjoyment of winning by not really trying to win ourselves, but a whole childhood of this could create a false reality for them. They need to understand what it's like to occasionally lose and that it's all a part of winning. After all, it's that feeling you get when things haven't quite gone right that motivates you to ensure there is a different outcome next time around. Team activities, such as football, give them a fun and informal environment for them to discover how to lose graciously and then use this to fuel their desire to win.
It Teaches Them Not To Give Up
Something that is a whole lot worse than trying your best and losing having is giving up without trying at all. If there is no competition then there is a danger that the child will just give up if they can't do something. However, if two or more people are battling it out then there is more chance that they will keep going in the search for victory. This is such an important lesson for a child to learn so that they know the true value of working hard. Even if they are not the best at something, there is still plenty to gain from persevering and not giving in too soon.
...But Only In The Right Way
Competition is something that children thrive on - they find it exciting and captivating. It can however, be overwhelming, particularly for our little footballers. We encourage a staged approach to competition, so that comfort in the sport - for example football - can be achieved before competition becomes a large focus. In our football coaching sessions, we introduce a no tackling rule, where children place their foot on the ball. This acts as a safety net and allows the child to look up and take note of the space and their team mates surrounding them. They are encouraged to be calm and try different football skills when on the ball - pressure must be at an all time low to encourage comfort and confidence on the ball. We believe in the competition at Sport4Kids - but within a controlled and staged development from the child footballer's perspective.
Collaboration between Mark Gould & Chris Mayhew - Liverpool fan and supporter of children's sports.