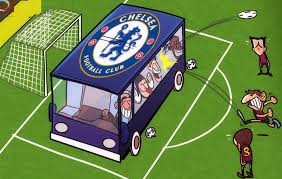 At risk of sounding like a disgruntled Liverpool fan (this may be slightly true), I'd like to take a minute to focus on the "parking of the bus" tactics that saw Chelsea run out of Anfield with a 2-0 victory last weekend. Many claimed that Brendan Rodgers and his young Liverpool team were given a "tactical masterclass" by Joe Mourinho's outfit. Now before we go any further, I am no hypocrite. I remember many a time under the tenure of Rafa Benitez and even as recently as Kenny Dalglish where Liverpool were set up to "not get beaten" opposed to try to win the game. Indeed, there is a time and a place for these sorts of tactics and the Premier League - with all of the financial ramifications for finishing near the summit - is exactly where one would expect to see them. However, where does this "win at all costs" mentality reach its limit? I would argue, in the
kids football clubs
.
Too often we see parents on the sidelines at football matches, urging their team on to win the game, no matter the style or state of play. While competition is important in developing passion in children and sport, providing a supportive and nurturing environment for creativity and expression may well prove to be more important. In our classes, we would applaud a 5 year old for performing a Cruyff turn in front of their own goal, even if they lost possession and conceded a goal. Why is that? Because they had the confidence and ability to try something different. If we constantly teach and reinforce "safe football" at a young age, how will our players every learn to be creative and try something new? That piece of skill that might perhaps unlock a rigid defensive structure like that of West Ham, Crystal Palace...or indeed Chelsea! By arming our
children with an artillery of skills
and giving them a low pressure platform to perform, where coaches, parents, friends and families all provide a supportive and encouraging environment, we can encourage them to take what many would term "risks" and produce individual pieces of brilliance. After all, what makes a parent more proud - telling their friends that their team drew 0-0 at the weekend, or showing them a perfectly executed Cruyff turn on their smart phone?