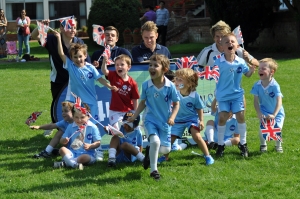 Are you thinking of getting your child into football when school starts again? Or are you looking for somewhere that the little ones can burn off some energy over the summer? We are delighted to announce that we have partnered with the Royal Borough of Windsor and Maidenhead to offer Advantage Card holders a staggering 50% off* our popular children's football coaching classes in the Berkshire area! We will be offering six classes for the price of twelve across all of our venues. These classes are aimed at children aged 18 months to 7+ years - click here to find out more about our children's football classes at Sport4Kids.
To redeem this offer, simply call 0845 052 1347 to arrange a start date and time.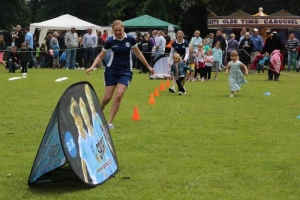 We attended the Red Balloon Nursery Family Sports Day in Weybridge and had a great time! The sun was shining, the ice cream was flowing and the kids football was fantastic!
We are pleased to announce that we are in talks with the nursery about bringing our high energy, child-centric kids football classes to the Weybridge area in September 2013 - watch this space!
Sport4Kids are delighted to announce our partnership with the Wellington Health & Fitness centre and our Summer Football Camp for 5-12 year olds. Our experienced football coaches will be bringing our high quality and child-centric football coaching methods to Wokingham for nine dates in the summer holidays.
Our S4K Academy will be coached under low pressure rules with a focus on developing skills in a fun and entertaining environment. Our Football Summer Camp will consist of days focusing on control, dribbling, passing, trickery and game knowledge.
The FA Recommends Child & Toddler Centric Football Coaching
The S4K philosophy is all about developing children in sports from a child centric perspective. "The S4K Way" looks to build confidence and skills first in our children and gradually increase the level of competition.
We start with toddlers from 18 months and nurture our talented children through to their teen years. In previous generations, the skills of tomorrow's footballers were born on the cul-de-sac streets and playing field pitches of working class Britain, until it got dark or mum called you in for tea, I know I was that kid on Merseyside!
Sports Entertainers & Football Coaching Jobs
We are always on the look out to add talented members of staff to our team here. Our Sport4Kids Sports Entertainers roles are highly competetive and we are always striving to stay ahead of our "Beyond the Best" standards. If you are innovative, reliable, motivated and passionate about child learning and sport, click here and check out our latest vacancies!
Franchising
Fancy working alongside a fast growing, innovative and supportive coaching organisation? Let us know by clicking here and providing us with a few details – we'd love to hear from you!