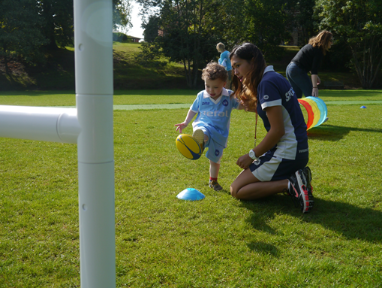 We are creeping closer to our toddler rugby and kids rugby taster session, which will take place at St John Beaumont Prep School in Old Windsor (SL4 2JN) this Saturday between 9.30-11.30am - click here to register to pop along and see us. Our toddlers and pre-school children will be treated to rugby fun and games, designed to build on basic motor skills to develop precision in rugby play.
There are a number of toddler and pre-school rugby providers around, so we caught up with Head Coach Dr Mark Gould to find out what is so unique about S4K Rugby.

How is S4K Rugby Different?
"Well, as with everything at Sport4Kids, we like to make waves in how we teach sport by sampling the best methods from around the globe and designing our curriculum around it. With football, we spent a lot of time researching the Dutch Coerver method and the Spanish "tiki-taka", which shaped the development of our Player Pathway curriculum. The same process was undertaken for rugby, but this time we had to spend significantly more time researching the methods of the southern hemisphere – namely the All Blacks Rugby Union side and the Australian Rugby League team."

Do S4K teach Rugby League or Rugby Union?
"At pre-school level, it isn't too important. What we believe is important however, is to teach precision and ball handling from an early age."

How can you teach precision to a toddler?
"The unique thing here is that we actually use a small ball. Not only is the ball small, but it is also weighted foam, rather than the usual squidgy foam. By doing this, we can teach our toddlers good habits, such as holding the ball using the "W" shape from an early age. The weighted nature of the ball also gives them a good idea about the ball moves through the air."

That sounds pretty technical for toddlers?
Haha don't worry – S4K Rugby is all about fun while developing skills. We use our psychologically famed
"analogous learning" approach – meaning that our children think they are flying around the moon on a rocket ship or running riot on a pirate ship while they learn their new sport.

When do the classes start?
We have a launch date for the first classes on 13th February 2016 at Charter's Leisure Centre in Sunningdale, but we have a free taster introduction running in Windsor on Saturday 23rd January 2016. Open to all – so come and have a go!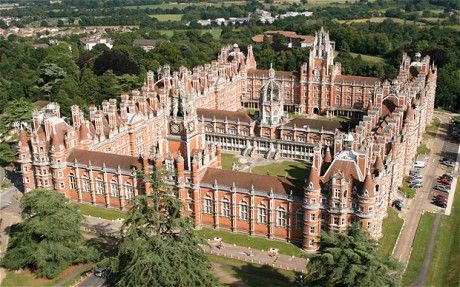 This weekend sees the annual Royal Holloway Alumni Sports Event at the university, where present students compete against past students for the Alumni Cup.
For our S4K football groups, this meant that our classes were due to be held outside on the all weather pitch. Unfortunately, this space is now no longer available due to the sheer number of alumni attending and the grass pitch that has been offered as an alternative would be too wet for our children. For this reason, we will be moving our classes to the St John Beaumont Prepartory School in Old Windsor (SL4 2JN), where the classes will take place in the furthest section of the Sports Hall. The class times will remain the same - S4K Tots (9-9.45am), S4K Kickers 1 (9.50-10.35am), S4K Kickers 2 (10.40-11.25am) and S4K Strikers (11.30-12.30pm). The S4K Academy (12.30-1.30pm) will take place outside on the top pitches (directions below).
To find us, you can park your car in the car park by the tennis courts. The sports centre is a short walk up the hill towards the main school building and then follow the road around to the left. The sports centre has glass automatic doors, but we gain access through the side door to the left of the building. For S4K Academy classes take place on the top field in all weather, so studs and shin pads are required. There is a path that leads up to this area through the back of the car park and the woods. The path will take you down hill and then around to the left. The path then bears around and up to the right before opening out onto the playing field pavilion. Please be aware that this walk can take 5-7 minutes.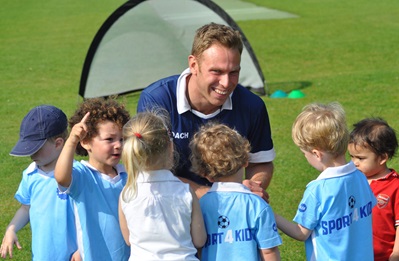 We are delighted to announce the opening of our toddler and kids football club in
Woking
on 9th May 2015! We are partnering with the Pyrford Primary School, where we already deliver our ActivKids natural exercise programme, to bring our high energy and highly entertaining toddler and kids football skill development classes to the local area!
Our new development centre will house classes for our
S4K Tots (18 months to 3 years)
,
S4K Kickers (3 to 5 years)
and
S4K Strikers (5 to 7 years)
every Saturday morning throughout the year. Our S4K Tots will meet from 8.30-9.15am, Kickers from 9.30-10.15am and Strikers from 10.30-11.30am every week throughout the year!
Our football skills sessions are based on our S4K Player Pathway, which is our curriculum approach to coaching football, demonstrating how a child can progress from 18 months through to the teen years into the next Lionel Messi! Disclaimer: we cannot guarantee that your child will turn out to be a professional!. We can however, guarantee that every child will have fun and develop their skills.
Why not pop along and see us for a free taster session by
clicking here
.
S4K FC Awards Ceremony Success!


Football Club Players Awarded for Achievements this Season
We held our Annual Awards Ceremony for our
Sport4Kids Football Club
on Sunday to honour all of the children, supporters and coaches who have been involved in a fantastic year of development. Hosted by S4Ks answer to Ant and Dec, Co-Founder, Dr Mark Gould, and our Head of Football Club, Adam Beckett, our teams were presented with awards including Top Goal Scorer, Most Consistent Player and Best Passer as well as Sport4Kids' unique Skills Master and S4K Way awards for those who attempted the most skills during the season and epitomised the passing football philosophy of our club.