What to Expect in February...
Dear Parents and Children,
We are delighted to announce the arrival of our Sport4Kids Player Pathway! Further to the previous email from our CEO Steve Jones, we wanted to share more detail on how the pathway will be rolling out in the coming weeks and months. What can we expect to see in January and February?
Easter Camp Now Accepting Childcare Vouchers - Book Today!
After the success of our February Half Term Camp, we are delighted to announce that we are back for another high energy season of fun!
After feedback from our members, we are also pleased to announce that we are now able to accept childcare vouchers as methods of payment for places! Better yet, our camp is available for just £26 per day and runs between

8-6pm

- meaning just £2.60 per hour of childcare for your little ones during the holidays. S4K Members save an additional 10% too! Head to www.sport4kids.biz/holiday-camps to book today.


Whats included?
Our camp is like no other - high energy, high enthusiasm and every child leaves with a smile on their face. In addition to the variety of sports and activities including football, basketball, volleyball, handball, lawn curling and our daily quiz, there's the Fancy Dress Friday and our well loved Sportacle Course. Our children compete in teams throughout the day collect points that contribute to the grand total for the day - but who will win?
Where and when is the camp happening? We're at St John's Beaumont Preparatory School, Old Windsor (SL4 2JN), from 8.00 til 6.00pm, Monday 30th March through to Friday 10th April (excluding Good Friday (3rd April) and Easter Monday (6th April)).
Who can come? S4K Cubs (5-8 years) & S4K Lions (8 to 13 years)
Call us on 0845 052 1347 or click HERE to register today!
Kingston Kings vs Sunbury Stars
This Sunday saw our inaugural
kids football
Academy match between the
Sunbury
and
Kingston
venues.
Coach Marcus is our lead coach at both of the venues and during his pre-match interview with Sky Sports, he said "I feel hat I have an ideal insight on the match up between the two, taking into account their ages and abilities. I predict a fairly event match up as both development centres have been religiously following the Player Pathway curriculum for the S4K Strikers age groups - so let's see what happens!" Parents at both Sunbury and Kingston have been keen to provide their little ones with a taste of competition in addition to our S4K Tournament, so when offered the chance to take part in this match, they leapt at the chance. Coach Bethany, who is our Support Coach at Sunbury Leisure Centre, also joined us for the match to lend her guidance to the budding Sunbury Stars. Our session began with Coach Marcus. Dan, Matt, Bethany and Nigel preparing the children with their footwork in a large skills square, using the skills in the Trickery pillar of our Player Pathway to make sure that everybody had them fresh in their mind for the match. Our coaching team then took the Strikers through their passing drills and reminded them of their shape and positional awareness from February's session plans. The two teams were then able to engage in a match period under the watchful eye of the S4K Coaching Team. The matches were punctuated with breaks in play to discuss positional play, coaching points and some tactics - all in the name of footballing education and building confidence in these young players. At the end of the two matches, both teams were awarded medals and parents were provided with ample photo opportunities. Everybody agreed that the event was a huge success and we are already in discussions about the return leg at Sunbury Leisure Centre. Overall, this was a hugely enjoyable exercise and we would like extend our thanks to Coaches Marcus, Matt, Bethany, Dan and Nigel for organising this event and providing the children with such an exciting afternoon. We will be rolling fixtures out across all of our development centres shortly so speak to your coaching team to find out when you can expect your first fixture!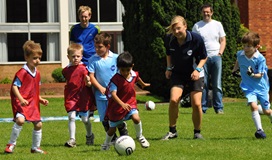 We are delighted to announce the opening of our toddler and kids football club in Cobham and Leatherhead! We are partnering with the Royal Kent CofE School, where we already deliver our school sports and activities curriculum, to bring our high energy and highly entertaining football classes to the local area!
Our new development centre will house classes for our S4K Tots (18 months to 3 years), S4K Kickers (3 to 5 years) and S4K Strikers (5 to 7 years) every Saturday morning throughout the year.