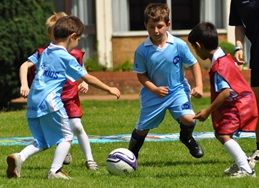 We are delighted to announce the launch of our
newly developed S4K Academy class
. Our classes will be changing from
March
and will be split into two formats -
skills
and
game management
in line with our
Player Pathway curriculum.
This is an exciting development that is designed to enhance skill level while applying some the game management principles found in our
S4K Football Club
. All of course wrapped with S4K fun and engagement!
To celebrate the launch of this new format, we are hosting our first every
Academy Training Camp Afternoon
this Saturday at St John Beaumont Preparatory School (SL4 2JN). Our full coaching team, including myself,
Coach Adam, Coach Beanie, Coach Luke, Coach Charisse
and company will all be present to provide some hands on, close coaching to our children from the academies at
SJB, Royal Holloway
and
Trevelyan Middle School.
The afternoon will take place on the
St John Beaumont Prep School
top field (
SL4 2JN)
and will begin at 1pm, running through until 4pm. Parents are invited to drop children with us and collect again at 4pm. The children will require a drink and a snack - leave the rest to us!
In order for us to host this event, this will be running
instead of the usual Academy classes at the venues listed above (SJB, Trevelyan and Royal Holloway).
Usual classes, times and locations will resume from next weekend. Please note, all children are to wear their sky blue S4K kit.
Any parents who are involved as team coaches in the football club or wish to be involved or simply stay to take a look are of course welcome to do so!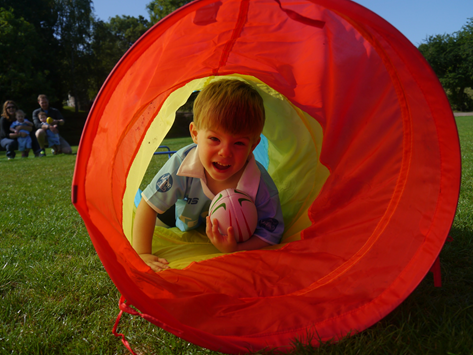 We are extremely excited about the launch of our
S4K Kids Rugby
classes in
February.
There are a number of toddler and pre-school rugby providers around, so we caught up with
Head Coach Dr Mark Gould
to find out what is so unique about
S4K Rugby.
How is S4K Rugby Different?
Well, as with everything at Sport4Kids, we like to make waves in how we teach sport by sampling the best methods from around the globe and designing our curriculum around it. With football, we spent a lot of time researching the Dutch
Coerver
method and the Spanish "
tiki
-taka", which shaped the development of our
Player Pathway
curriculum. The same process was undertaken for rugby, but this time we had to spend significantly more time researching the methods of the southern hemisphere – namely the
All Blacks Rugby Union
side and the
Australian Rugby League
team.
Do S4K teach Rugby League or Rugby Union?
At pre-school level, it isn't too important. What we believe is important however, is to teach
precision
and
ball handling
from an early age.
How can you teach precision to a toddler?
The unique thing here is that we actually use a small ball. Not only is the ball small, but it is also weighted foam, rather than the usual squidgy foam. By doing this, we can teach our toddlers good habits, such as holding the ball using the "W" shape from an early age. The weighted nature of the ball also gives them a good idea about the ball moves through the air.
That sounds pretty technical for toddlers?
Haha
don't worry – S4K toddler rugby classes are all about fun while developing skills. We use our psychologically famed "analogous learning" approach – meaning that our children think they are flying around the moon on a rocket ship or running riot on a pirate ship while they learn their new sport.
When do the classes start?
We have a launch date for the first classes on 13
th
February 2016 at Charter's Leisure Centre in
Sunningdale
, click here to book a free taster session.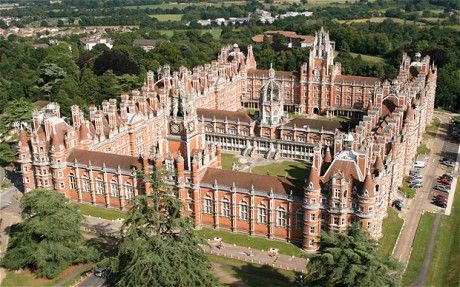 This weekend sees the annual Royal Holloway Alumni Sports Event at the university, where present students compete against past students for the Alumni Cup.
For our S4K football groups, this meant that our classes were due to be held outside on the all weather pitch. Unfortunately, this space is now no longer available due to the sheer number of alumni attending and the grass pitch that has been offered as an alternative would be too wet for our children. For this reason, we will be moving our classes to the St John Beaumont Prepartory School in Old Windsor (SL4 2JN), where the classes will take place in the furthest section of the Sports Hall. The class times will remain the same - S4K Tots (9-9.45am), S4K Kickers 1 (9.50-10.35am), S4K Kickers 2 (10.40-11.25am) and S4K Strikers (11.30-12.30pm). The S4K Academy (12.30-1.30pm) will take place outside on the top pitches (directions below).
To find us, you can park your car in the car park by the tennis courts. The sports centre is a short walk up the hill towards the main school building and then follow the road around to the left. The sports centre has glass automatic doors, but we gain access through the side door to the left of the building. For S4K Academy classes take place on the top field in all weather, so studs and shin pads are required. There is a path that leads up to this area through the back of the car park and the woods. The path will take you down hill and then around to the left. The path then bears around and up to the right before opening out onto the playing field pavilion. Please be aware that this walk can take 5-7 minutes.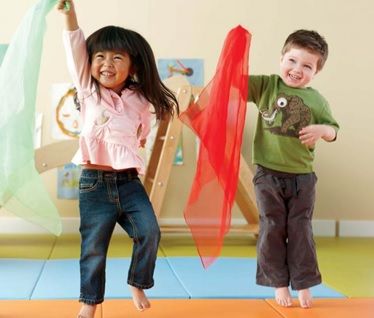 We had a fantastic time at the launch of our toddler and children's
S4K Dance
classes last Saturday in Old Windsor, Berkshire!
Our S4K Tots and Movers learned some new tricks and skills while having lots of fun and boogying to the music. Led by Coach Marie and her team, we explored the world of King Louis from Disney's Jungle Book before delving into toy box fun with Andy, Woody, Buzz and the gang from Toy Story. Our toddler and children had great fun shaking pom poms and stepping like bears before putting on a bit of a performance for our watching mums and dads (some of whom were itching to get involved to). Dance was the winner on the day!
In the next week, we will announce the launch of our full programme for the New Year – so watch this space!