S4K CHARITY MATCH!
Parents vs Coaches returns!

As the aches and pains of the last charity match become a distant memories, our S4K Coaches are looking forward to avenging the demolishing that was handed to them by our S4K Parents last time around! We had some fantastic female players last time around and are looking for more mums to come along and have a kick about - don't be shy! The details are as follows...
Date:
Saturday 7th June 2014
Location:
St John's Beaumont Preparatory School, Old Windsor (SL4 2JN)
Time:
1.30pm meet (2pm Kick Off)
Price:
£10 donation to Sport Relief
Details:
We will be taking part in the first 11 a side match between our parents and coaches on the picturesque pitches at St John's. Shin pads are advisable :-) Squad size of 18 maximum.
To reserve your space, head to https://yoozap.com/sport4kids*4 to make your donation. Bookings will close on WEDNESDAY 4TH JUNE at 10pm.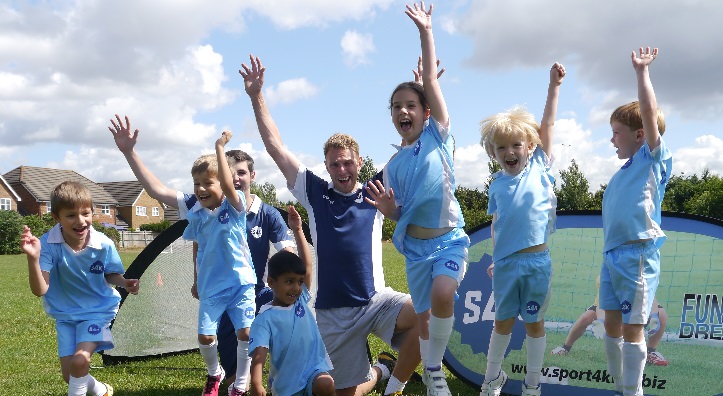 We are delighted to announce our half term holiday camp at
St John's Beaumont Preparatory School
in Old Windsor from 26th to 30th May! We will be providing a multi-sport offering, including favourites such as tennis, dance, football and rugby, as well as some new flavours for our kids to try such as volleyball, basketball and rounders. Our children will experience friendly competition, being allocated to houses on arrival and playing for points throughout the day against their peers. Points will be up for grabs for improvement in performance, sportsmanship and quizes to give everybody the maximum chance to earn crucial points for their team. The week will be rounded off with a presentation ceremony and the Sport4Kids Grand Finale, where children will compete in a "Wipeout" challenge...dressed as their favourite sports person, tv character, book character...or indeed anything of their choosing! As with everything at S4K, we want to make this a memorable and energetic event for every child who is involved and we guarantee, that every child will improve their skills regardless of their ability. To reserve your child's place, just click
here
or call us on 0845 052 1347!
S4K Kids Football Club Summer Festival Announcement!
Our Summer of Football Tournaments has Arrived!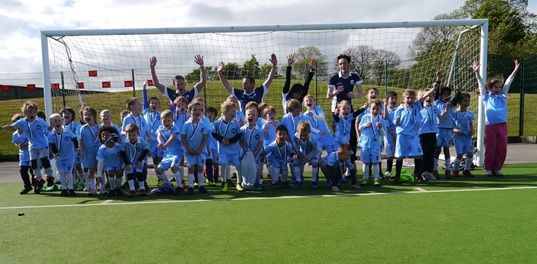 We are delighted to announce that we are able to offer our
S4K Football Club
teams the chance to enter into three competitive tournaments this Summer in preparation for next year's league participation! We have been working extremely hard over the past few months to set up a football club that not only offers children the chance to take part in regular football match fixtures, but also continues to place the emphasis on skill development and fun.
The tournaments are listed below and all have placed for Under 7s (6+ years), Under 8s and Under 9s teams.
ANY
of our S4K children who fall into this age category are welcome to enter. The cost of entry varies between £5 and £10 per player and we will provide further details once we have received responses for registering. To book your daughter or son's place, please email
, stating which tournaments you would like to attend by
Thursday 12th June 2014.
In order to make these tournaments successful, we will be needing parents to take on "Team Coach" roles and be active in working with the children on the day. If you are able to assist with this, please also include this in your email :-)
We will also be offering FREE S4K Player Pathway Assessments for August! This is a 15 minute assessment of your child's football skills across our Player Pathway criteria. This will not only help our children and parents understand whether they are ready for the next S4K level, but also point out the skills that they can work on to improve their ability.
We are extremely excited about this new chapter in our S4K history and look forward to welcoming you all along the journey!


TOURNAMENTS
WINDSOR EAGLES FOOTBALL FESTIVAL
Date:
Saturday 14th June 2014
Location:
Imperial Park, Imperial Road, Windsor, Berkshire, SL4 3RU
Time:
1100-1600
Details:
7a side tournament - please note we only have space for one team in this tournament and will only be taking 8 players, so places will be given on a first come basis.
LONDON INTERNATIONAL FOOTBALL FESTIVAL
Date:
Saturday 2nd August 2014 & Sunday 3rd August 2014
Location:
Royal Holloway, University of London, Egham, Surrey, TW20 0EX
Time:
Under 7s - 02/08/2014 (am); Under 8s - 02/08/2014 (pm); Under 9s - 03/08/2014 (am)
Details:
This tournament welcomes teams from all over Europe to Royal Holloway's picturesque surroundings and promises to be a fun-filled day for all of the family. We are able to enter three teams and places will be given on a first come first served basis.
FAB ACADEMY FOOTBALL TOURNAMENT
Date:
Saturday 30th August 2014
Location:
Bisham Abbey National Sports Centre, Bisham, Buckinghamshire,
SL7 1RR
Time:
1100-1600
Details:
This tournament is held in the Bisham Sports Centre grounds, which has just undergone a £7 million refurbishment. We are able to enter Under 7s, Under 8s and Under 9s with multiple teams.