We are delighted to announce our partnership with Panini and the launch of our S4K Kids Football World Cup Tournament! The tournament will be held of
Sunday 6th July 2014
at the
Salesian School
in
Chertsey
and is open to all of our
S4K Strikers (
5 to 7 years) and
S4K Academy
(7+ years). We will be mixing our teams up and they will be allocated a country to represent for the tournament. Will Brazil or the Netherlands win the trophy? Could we see a victory on penalties for England? Or could a wildcard like the Ivory Coast or Costa Rica reign supreme! It promises to be a fun afternoon of football for all of the family to enjoy.
Our friends at Panini have donated
sticker albums
and
stickers
to us for our S4K kids (and parents!) so that they can join in the World Cup fever and enjoy their first major tournament. Over the coming weeks, we encourage our children (and parents again) to bring their swaps along to our classes and get involved in what promises to be a fantastic summer of football. We will also have a
Swap Shop
on the date of the tournament so that our little ones (and big ones) can try to finish their books! If you would like a sticker book and have not received one already, just ask one of our coaching team this weekend.
Places are extremely limited (due to high demand), so please head to www.yoozap.com/sport4kids to book your child's place (£10 for one child; £15 for two; £20 for three).

S4K Kids Football Club Summer Festival Announcement!
Our Summer of Football Tournaments has Arrived!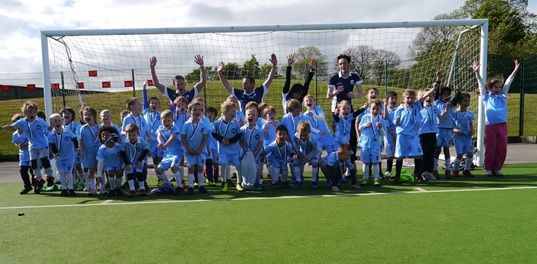 We are delighted to announce that we are able to offer our
S4K Football Club
teams the chance to enter into three competitive tournaments this Summer in preparation for next year's league participation! We have been working extremely hard over the past few months to set up a football club that not only offers children the chance to take part in regular football match fixtures, but also continues to place the emphasis on skill development and fun.
The tournaments are listed below and all have placed for Under 7s (6+ years), Under 8s and Under 9s teams.
ANY
of our S4K children who fall into this age category are welcome to enter. The cost of entry varies between £5 and £10 per player and we will provide further details once we have received responses for registering. To book your daughter or son's place, please email
, stating which tournaments you would like to attend by
Thursday 12th June 2014.
In order to make these tournaments successful, we will be needing parents to take on "Team Coach" roles and be active in working with the children on the day. If you are able to assist with this, please also include this in your email :-)
We will also be offering FREE S4K Player Pathway Assessments for August! This is a 15 minute assessment of your child's football skills across our Player Pathway criteria. This will not only help our children and parents understand whether they are ready for the next S4K level, but also point out the skills that they can work on to improve their ability.
We are extremely excited about this new chapter in our S4K history and look forward to welcoming you all along the journey!


TOURNAMENTS
WINDSOR EAGLES FOOTBALL FESTIVAL
Date:
Saturday 14th June 2014
Location:
Imperial Park, Imperial Road, Windsor, Berkshire, SL4 3RU
Time:
1100-1600
Details:
7a side tournament - please note we only have space for one team in this tournament and will only be taking 8 players, so places will be given on a first come basis.
LONDON INTERNATIONAL FOOTBALL FESTIVAL
Date:
Saturday 2nd August 2014 & Sunday 3rd August 2014
Location:
Royal Holloway, University of London, Egham, Surrey, TW20 0EX
Time:
Under 7s - 02/08/2014 (am); Under 8s - 02/08/2014 (pm); Under 9s - 03/08/2014 (am)
Details:
This tournament welcomes teams from all over Europe to Royal Holloway's picturesque surroundings and promises to be a fun-filled day for all of the family. We are able to enter three teams and places will be given on a first come first served basis.
FAB ACADEMY FOOTBALL TOURNAMENT
Date:
Saturday 30th August 2014
Location:
Bisham Abbey National Sports Centre, Bisham, Buckinghamshire,
SL7 1RR
Time:
1100-1600
Details:
This tournament is held in the Bisham Sports Centre grounds, which has just undergone a £7 million refurbishment. We are able to enter Under 7s, Under 8s and Under 9s with multiple teams.