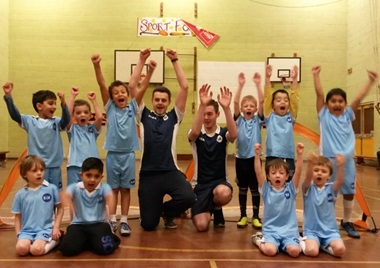 Due to popular request, we are delighted to announce the opening of our S4K Football Club at St John's Beaumont (SL4 2JN), which will be open to children from the ages of 6 years. We are excited to begin introducing our little ones to controlled competition and entering into local league and festival structures, so that all children can continue their football education with us. We have agreed sponsorship for the new season, which will be announced shortly, and will be gathering expressions of interest for the new league structure shortly.
We will be incorporating all S4K Academy classes from the Brigidine School into St John's Beaumont School, in order to create a central hub and home ground for our new football club.
In order to provide this level of progression at St John's Beaumont, we are going to be adjusting the class times slightly in ordder to allow for a progression through our S4K levels. The new times will be as follows and come into play from Saturday 5th July onwards...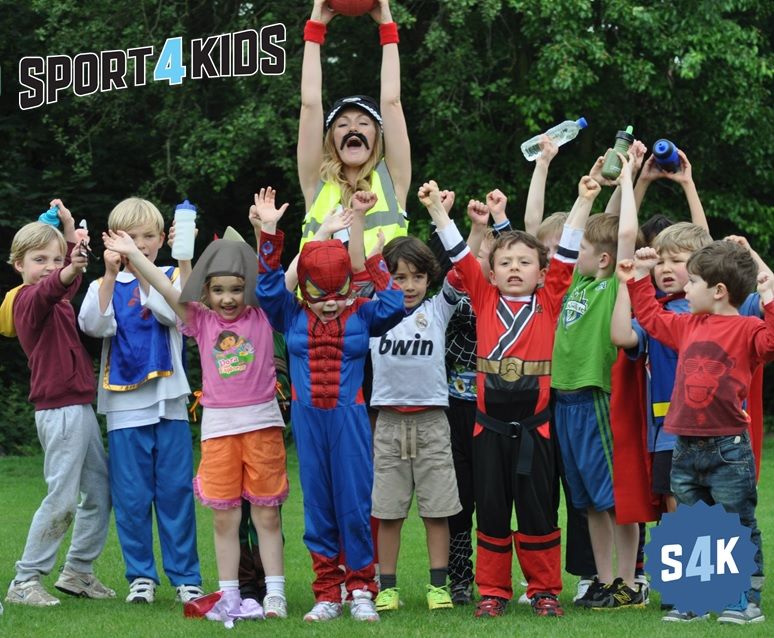 BOOK YOUR
HOLIDAY CAMP

PLACE NOW FOR DISCOUNT!
After the success of our
May Holiday Camp
, we are delighted to announce that we will be running an extended holiday camp throughout the summer! We were delighted with the 100% positive feedback that we received from children and parents alike for our May Sports and Activity Camps and Coach Marcus and Coach Marie will be returning this summer to keep your little ones amused with high energy inter-house games and fun! Better yet, we are offering an exclusive promotion to all those who book their places before
MONDAY 30TH JUNE 2014!
The details are as follows...
Dates...
Monday 28th July to Friday 1st August 2014
Monday 4th August to Friday 8th August 2014
Monday 11th August to Friday 15th August 2014
Monday 18th August to Friday 22nd August 2014
Monday 25th August to Friday 29th August 2014
Times...
Standard Day available from 8.30-5pm
Early Rise Club available from 8-8.30am
Late Runners Club available from 5-6pm
Early Booking Discount Prices...
BOOK BEFORE MONDAY 30TH JUNE!
£36 per Standard Day
£158 per Standard Five Day Booking
£5 per Early Rise Club Booking
£10 per Late Runners Club booking
10% Sibling Discount
10% Sport4Kids Member's Discount
Normal Booking Prices...
£42 per Standard Day
£175 per Standard Five Day Booking
£5 per Early Rise Club Booking
£10 per Late Runners Club booking
CALL US ON 0845 052 1347 TO BOOK TODAY!


SPACES ARE LIMITED.
We are delighted to announce our partnership with Panini and the launch of our S4K Kids Football World Cup Tournament! The tournament will be held of
Sunday 6th July 2014
at the
Salesian School
in
Chertsey
and is open to all of our
S4K Strikers (
5 to 7 years) and
S4K Academy
(7+ years). We will be mixing our teams up and they will be allocated a country to represent for the tournament. Will Brazil or the Netherlands win the trophy? Could we see a victory on penalties for England? Or could a wildcard like the Ivory Coast or Costa Rica reign supreme! It promises to be a fun afternoon of football for all of the family to enjoy.
Our friends at Panini have donated
sticker albums
and
stickers
to us for our S4K kids (and parents!) so that they can join in the World Cup fever and enjoy their first major tournament. Over the coming weeks, we encourage our children (and parents again) to bring their swaps along to our classes and get involved in what promises to be a fantastic summer of football. We will also have a
Swap Shop
on the date of the tournament so that our little ones (and big ones) can try to finish their books! If you would like a sticker book and have not received one already, just ask one of our coaching team this weekend.
Places are extremely limited (due to high demand), so please head to www.yoozap.com/sport4kids to book your child's place (£10 for one child; £15 for two; £20 for three).

S4K CHARITY MATCH!
Parents vs Coaches returns!

As the aches and pains of the last charity match become a distant memories, our S4K Coaches are looking forward to avenging the demolishing that was handed to them by our S4K Parents last time around! We had some fantastic female players last time around and are looking for more mums to come along and have a kick about - don't be shy! The details are as follows...
Date:
Saturday 7th June 2014
Location:
St John's Beaumont Preparatory School, Old Windsor (SL4 2JN)
Time:
1.30pm meet (2pm Kick Off)
Price:
£10 donation to Sport Relief
Details:
We will be taking part in the first 11 a side match between our parents and coaches on the picturesque pitches at St John's. Shin pads are advisable :-) Squad size of 18 maximum.
To reserve your space, head to https://yoozap.com/sport4kids*4 to make your donation. Bookings will close on WEDNESDAY 4TH JUNE at 10pm.

Due to popular demand, we have added an additional
S4K Kickers (3 to 5 years)
age group to our energetic, child-centric kids football classes at the
Wavell School in Farnborough and Aldershot
. Led by Coach Matt and Coach Joe, kids have great fun learning new skills, making new friends and showcasing their football skills that are sure to get them on the plane to World Cup 2030! The new class times are listed below for our existing customers, with only the S4K Tots group time moving back by 5 minutes. If you are new to Sport4Kids - why not pop along for a free taster session and see how we are changing the face of the beautiful game?
Click here to register.