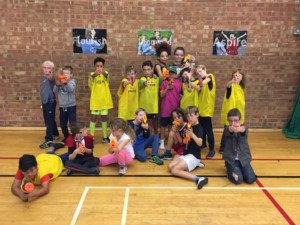 We are so excited to announce that we are extending our incredible Sport4Kids Camps and opening a new location in Farnborough, Hampshire. at the Fernhill School.
Our Sport4Kids children's Camps run for children aged 4-13 years old and operate between the hours 8:00am-6:00pm Monday-Friday.
Our Early Years Camp runs for children aged 4-5years old.
Our Multi-Activity Camps runs for children ages 5-13 years olds.
Our Football Camp runs for children between the ages of 4-13 years old.
Sport4Kids Sales Director, Adam Beckett said "Our S4K Camps are an amazing opportunity to help improve your child's physical, emotional and mental wellbeing and a great way to help your child's social skills too. There are a vast range of activities offered and there is something for everyone! What a great way to spend their week!".
We have a professional team of well trained coaches who are keen to provide entertainment and show amazing levels of enthusiasm.
Your can check out our Holiday Camp FAQs here and check out the new Fernhill School venue by clicking here.