The Olympics – Inspiring a Generation with Football Kids Classes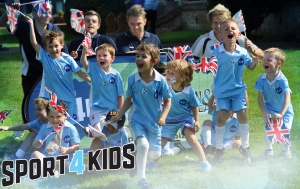 How can kids football classes build on the Olympic legacy and inspire a generation of football kids? With the Olympics over and the Paralympics on its way discussion of legacy is everywhere. The London Olympics theme of "Inspiring a Generation" has caught the imagination of everyone across the nation – young and old!
Whether it was Jennifer, Mo, Laura Trott, Mr. Bolt or the Brownlee brothers that got you going, there was a feast of inspiration for all our children at the London 2012 Olympics to get excited about sport.
Team GB Girls Football team won an historic battle with the beautiful Brazilians at a packed Wembley Stadium – Sparking the imagination of girls up and down the country to get actively involved with girls football.
Team GB's amazing performance is certainly inspiring and our S4K Kickers in Windsor below who share a special celebration of Team GB's record medal haul.
Sport4Kids coaches are all about inspiring our children, creating the joy and delight of learning new skills, having fun games, creating a great atmosphere that promotes smiles, laughter and fun around kids football classes.
The joy of sport and the superhuman feats of all our Team GB medalists is a great platform to build on. To get our kids active, playing sport for health and fitness as well as living their dreams should now be a lot easier.
What better way than sharing the fun, joy and imagination that our Sport4Kids football classes can bring to the future of our aspiring Olympians.
Taking the spirit of our children as the inspiration for adults to get involved and join in the fun is also something we experience at S4K. Regular parent involvement is actively encouraged – even kicking a ball around along with our enthusiastic little ones!
Kids football is a wonderful way to build our childrens confidence, to get them active learning with their peers and building a healthy lifestyle. Search out your local venues to get involved! Perhaps together Parents and Sport4kids Coaches we can inspire a new generation of football kids – or at least have fun doing so!