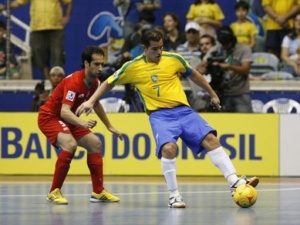 How exactly have the football greats like Pele, Roberto Carlos, Ronaldo and Neymar been able to master the Brazilian Samba?
Futsal is designed to allow players to constantly touch the ball, encourage them to retain posession of the ball and optimise the enjoyment of not only attacking, but also defending. The technique removes some of the difficult rules of football that may hinder youngsters development. For example, there are no offsides in a Futsal match, thus allowing players to move into any space that they see beneficial.
Coaches are encouraged not to actively participate in the game, but to act as a faciliator, allowing the children to be creative in their approach to the game, which ultimately aids vision and decision making abilities. thus making it easier to recruit more volunteer "coaches". This allows the game to effectively become the teacher!
Children are taught how to play as an outfield player, before moving onto specialising in goalkeeping if they so wish. As children develop, Futsal games tend to be played at a higher pace than traditional football games, thus more shots tend to be taken by more players and goalkeepers improve at a greater rate and reactions improve.
The nature of Futsal is that it improves childrens' spacial awareness, control of the ball and movement on and off the ball. It moves away from the traditional "hit it long" or "pass to the wing, run to the corner and whip the ball in for a header" philosophy, instead opting for the fast paced, pass and move philosophy that has served the Brazilian national team so well over the years.
We make use of the Futsal in our small sided games with our S4K Strikers and our S4K Academy members - why not come and let your child try it out?