Sport4Kids Summer Party!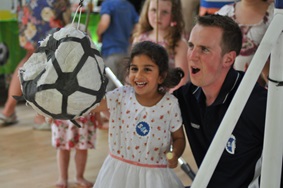 After the success of last year's event, we are delighted to announce our annual Summer BBQ and Party! Tickets must be purchased in advance and the details are listed below...
Date: Sunday 25th August 2013 (Bank Holiday Weekend) Time: 1400-1730 Location: Virginia Water Community Centre (GU25 4EY) Price: £10 per adult / £5 per child Details: There will be a bouncy castle, fun games for the kids, live entertainment for the parents and a BBQ for all to enjoy!
Please fill out the form below and we will reserve your place and call to arrange payment. Just include the number of adults and children in the "message "box.