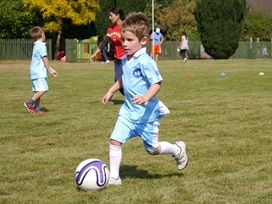 We are delighted to announce the launch of our kids and toddler football classes in the Beaconsfield area this May! Led by our talented team of Sports Entertainers, our S4K Football program is based on the Dutch Coerver, Spanish Tiki-Taka and Brazilian Fustal football coaching techniques. We use the Montessori teaching method to develop toddler and child mini and micro motor skills, blending this with the work of child psychologists and of course, fun and entertainment.
David Joy, Principal of S4K Beaconsfield & Bucks said "I'm really looking forward to bringing our S4K Football classes to the area of Beaconsfield. We will be opening up at the Beaconsfield High School on the 20th May, which has great facilities - both indoors and outdoors. The S4K Way is truly unique and I am excited to get the classes up and running here. Through a combination of energetic and highly technical classes and parents using our Practice@Home books with their children, we will no doubt improve the confidence and skills of every child who attends".
The classes at the Beaconsfield High School will take place every Sunday morning and be available for the following age groups...
- S4K Tots (18m to 3 years) - 8.30-9.15am
- S4K Kickers (3 to 5 years) - 9.20-10.05am
- S4K Strikers (5 to 7 years) - 12.00-1.00pm
To book a Free Taster for our S4K toddler and kids football classes, just click the "Book Now" button below and select your child's age group from the table. We are also launching our Toddler & Kids Rugby Classes at the same location - click here for more information.