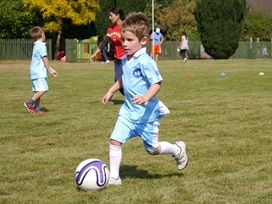 After a successful first few months at their inaugural venue at Beaconsfield High School, S4K Beaconsfield Bucks are excited to announce that they are launching a High Wycombe venue on Saturday 13th October. Cressex Community School has state of the art sports facilities which provide the perfect home for our S4K Rugby Tots and S4K Rugby Cubs to hone their conversion kicks and tune-up their tries!
Our toddler rugby and kids rugby classes are like no other, bringing the precision ball handling skills of the Australian Rugby League and the All Blacks Rugby Union to High Wycombe through exciting games and activities to our families. Fun is a fundamental part of everything we do and entertainment is interwoven with our extremely technical program.
The classes at the Cressex Community School will take place every Saturday morning and be available for the following age groups...

S4K Toddler Rugby (18m to 3 years) – 10.10-10.55am
S4K Cubs Rugby (3 to 5 years) – 11.00-11.45am
We are also launching our Toddler and Kids Football Classes at the same location - click here for more information.
Click the Book Now button below to register for your free taster today!