PE and Games Curriculum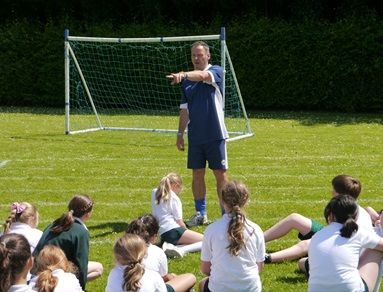 The S4K Key Stage 1 PE curriculum is aimed at supporting schools to achieve the recommended target of 2 hours of PE each week and progresses from the core skills learned during our Foundation Stage curriculum. Our 6-week PE programmes inspire pupils to develop core motor skills, become increasingly competent and confident in physical activity, and offer a broad range of opportunities to develop fundamental movement skills.

Each S4K PE programme promotes co-operative physical activities for all pupils, in a range of increasingly challenging situations, allowing competitive engagement between each other and themselves.

Our PE Games programme includes the following 6-week schemes of work:


Team Games

Athletic Activities (Run, Jump and Throw)

Ball Skills (Throw, Catch, Pass, Deliver; Hands or Feet)

Bat and Ball Skills (Hand/Eye Co-ordination)

Gymnastics and Dance


Each Games programme focuses on fundamental movement skills and multi-skills rather than sport specific activities, which are available in our Key Stage 2 programme.

All of our programmes utilize our Pupil Player Pathway curriculum, which includes a skill development record for every child. Children bring these records to their sessions and are able to monitor their own progress along a core list of competencies for each of the above areas of the Foundation, Key Stage 1 and Key Stage 2 curriculums. Each child's class is also provided with a wall chart, which children place stickers on to track their progress throughout the term.


Interested in seeing our Key Stage 1 programme in action? We are happy to provide a free taster trial for any school setting that would like us to pop in - just fill out the form below...