S4K Toddler Classes Introduction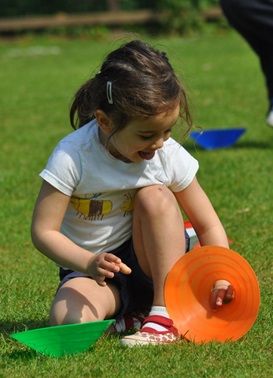 S4K runs many different types of toddler classes that are designed with the child and parent in mind. Our toddler classes offer a fantastic opportunity for you and your child to spend quality time together.
We have a passion for child and toddler development, providing entertainment and fun classes that are toddler centric. Everything that we do in our toddler classes is designed from the child's perspective, using the best toddler development, teaching and coaching methods to provide families with the best toddler experience possible. We refer to this special experience fondly as "The S4K Way".
Toddlers are able to join in almost as soon as they can walk, run and listen to instructions and have fun in a caring group setting. Parents take part together with their child, as our S4K Coaches get to know all of the toddlers and help them develop in a gentle supportive environment. Toddlers are encouraged to learn the basics of order and listening, toddling around and playing with their new friends.
Learning to learn, experiencing group activities, sitting, standing, walking and running in line and turn taking with friends is all part of the S4K entry level experience. S4K toddler classes are designed to use their imagination and our warm up sessions are aimed at getting them to listen to simple instructions and interact in activities with their coaches in a fun, humorous and easy to follow play environment.
The Sport4Kids mission is to revolutionise children's sport and build confidence in every child. The S4K Way provides a unique experience for toddlers and mums. We prepare our children for a lifetime of development and even as early as 18 months they will learn fundamental movement and cognitive skills that prepare them for a healthy lifetime of enjoyment of sports. S4K Toddler Classes build confidence through skills and entertainment to promote a healthy mind, body and active lifestyle.
We focus on fun to develop engagement and from engagement, our children will develop enjoyment of active play and a positive experience for sporting activity. This is the start of their sporting journey and a healthy lifestyle. There is a lot of science behind the design of our toddler classes that is based upon the fundamental principles of child and toddler development. This is both cognitive and behavioral as well as the development of their physical being.
We want to help each toddler to become the very best that they can be one smile, one moment and one class at a time.
Key Features of The Best Toddler Classes Available…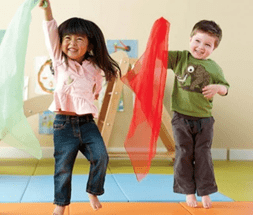 Montessori Toddler Development Teachings: Inspired by Montessori teaching methods each technique is broken down into its smallest physical movements and each child develops at their own pace. Innovative products that are both entertaining at toddler level whilst developing mini and micro motor skills that are the building blocks for complex technical skills and elite competition. We refer to the prepared child who builds core muscle motor skills whilst having fun.
Learning Through Object Play: Dr Montessori also observed that young children learn early mathematical concepts through touching, stacking, sorting, and handling objects. It is through this manipulation of various materials that children learn to recognize quantities, sequence, and patterns. This is the groundwork for basic mathematical principles. S4K Toddler Classes have at their core the touching, playing and sorting of inanimate objects such as cones and balls.
Movement, Emotional Control, and Math Patterns (Starting from Birth) - Children are born with limited control of movement, but gain rapidly in areas of both gross and fine motor control. As they learn to use their bodies, children are also developing cognitive abilities. They literally learn through their hands and through movement. Understanding and need for order and both their vocabulary and their interest in objects and controlling them.
Communication & Relationships: These early toddler years are a sensitive time for bonding with parent. Toddler Classes are an ideal environment for toddlers to learn about relationships, communication, and emotional control through the responsiveness of their parents and the coaches. A positive experience stays with the child for life. When parents and coaches respond well to a toddlers attempts to communicate, the toddler develops a sense of self-worth and feels confident. It also builds an essential foundation for more complex communication and thinking.
Verbal and Non Verbal Communication: S4K coaches are specially trained to engage with toddlers using verbal and nonverbal communication methods. These are also shared and passed on to parents to repeat the positive experience and good communication techniques at home. Simple show and tell techniques and activities with oodles of patience, good humour and bags of re-enforcement from the coaches is key part of S4K Toddler Classes classes.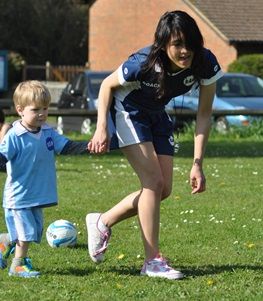 Technical Skills Development: S4K is the first and only organization to create a physical curriculum for toddlers. As well as the science behind toddler development there is an advanced methodology of taking a sport and breaking it down into areas of physical capability and then aligning this to development stages of a child. Starting with toddlers is the design of Toddler Classes is based around the key fundamental movement skills and around key micro, mini and fine motor skills of a specific sport.
World Class Skills: We develop coaching and activity programs that take the best skills from around the world in a given sport and break them down into mini and micro motor skills for our children to learn.

Child Developmental Psychology: In our lesson design, we reflect many child development psychology principles and frameworks and combine all children's learning senses. We use a combination of sensory experience for children by mixing visual aids, cartoon characters, analogous learning and stories, music, mantras, demonstration, sports furniture, equipment, repeated learning cycles and practice books to help build the best environment for child learning and development.

Fun & Entertainment: Simple problem-solving activities provide the perfect informal game focused classes for encouraging our fledgling footballers to advance their basic attention and listening skills. All activities are framed in a way that guarantees to get Tots smiling, giggling and enjoying the S4K experience while learning skills. Building confidence and feeling at ease is a key part of carefully designed toddler activities at this stage. By interacting in fun games, that include activities with movements our toddler activity classes help kids build their physical confidence, practice new actions whilst watching others and copying their peers. Wrapping highly technical skills and mini motor memory exercises in fun, entertaining programs that build fun, enjoyment and passion for sport. This fuels each child's passion and engagement. Fun is critical to forming engagement in our children.

Pathways & Curriculum: The word class techniques are split into key pillars and comprehensive curriculum for each stage of development and age group. There are clear steps and a visible curriculum for parents to see what their toddler is doing and how the specific classes and exercises fit into the overall program. S4K Toddler Classes teach your child about shapes, colours, numbers and counting as well as contain sports specific technical and core motor skill development.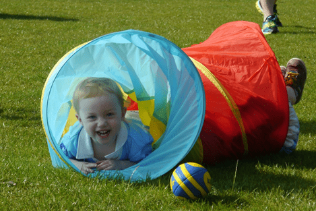 Individual Toddler Progression: Each child progresses through a series of Pathways designed to build on each level extending technical mastery whilst monitor progress, building confidence in each child. Progression is core to all program design and child monitoring as well as the monthly skills cycle. Progression with Player Pathways, Progression with Assessments and Promotion through the levels of performance and grading that is aspirational and rewarding for children and parents.
S4K treats each toddler as an individual and providing parents with feedback on how well each child is progressing is all part of a very carefully designed experience.
Practice@Home: Parents play an active role in their child's development using our Practice@Home book, which provides them with all of the skills that our S4K Tots curriculum is teaching their child so that they can play together at home. Practice is a key part of the child development, parental involvement and the commitment to a journey of excellence that put the concept of 10,000 hours firmly into the development of each child on the journey to be the very best they can be. Each child has their own personal record book that is used in partnership with the parent to encourage and monitor Practice@Home.
S4K believes that each child has ability and it is down to practice to hone that ability for each child to become the best they can be. World class ability is earned through practice and we talk of 10,000 hours or practicing a skill 10,000 times to become world class. Each and every child has the chance to become world class – it is all about the coaching and the hours of practice. In this sense The Practice@Home book and the circle of trust between the Parent, the S4K Coach and the Player is crucial.
Parent & Child Experience: A focus on the child, parent, school and nursery staff experience from end to end and making them all feel great about S4K and everything that it touches.
Continued Innovation: Constant R&D, innovation and creativity to build beyond world class products, services and sessions. This is to both continually maintain a competitive advantage and difference in each sport, but also to add new experiences, new products and new sources of income.
S4K Values: We are a compassionate and caring organization. We care for our people, our parents, our schools, our nurseries, our stakeholders our coaches and of course our toddlers.
Parents as Partners: S4K Toddler classes are for parents too! We treat parents as a true partner and stakeholder by sharing the S4K Way and the communication and coaching techniques and education methods. We aim to build a common language and circle of trust between the parent, the toddler and the S4K coaching team.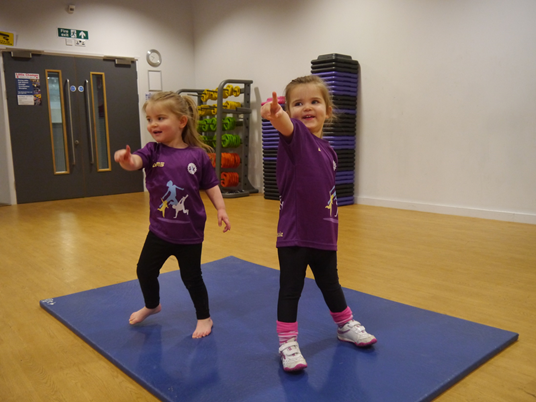 Productized for Consistency: The toddler and children's service industry has never seen the level of consistency that we expect and deliver for parents and their little ones. Sport4Kids issue detailed lesson plans for all sports on a monthly basis and they undergo research and development each time to ensure that toddlers receive the optimum expereince and development. All of our S4K Toddler Classes up and down the country run to the same level of quality and delivery, the same activity, in the same way at the same time, so you get the very best consistent experience.
Special Coaches: S4K coaches are chosen for their charisma and their interpersonal skills as much as their coaching and sporting knowledge. We have Sports Entertainers that are able to get down with the toddler acting as a monkey one moment and then share the fundamentals of toddler development with parents the next.
Coach Training in Toddler Development: S4K Coaches qualify through a rigorous training and continuous training program. They pass through The S4K University which combines toddler and child centric training with deep technical movement and sports coaching development. There is online, class room and practical training which is underpinned by extensive quality control and audits to make sure we deliver the S4K brand promise to each and every child at every class and session.

Here Are the range of toddler classes we at Sport4Kids put on every weekend of the year. Take a look at our activities for 2 to 3½ year olds. S4K toddler classes are a great way to spend quality time with your child while they develop, grow and learn new skills.
Help your child develop their intellectual, physical, social, and emotional skills by enrolling her or him in an S4K toddler learning class today.
S4K Toddler Rugby Classes
Based upon world class rugby methods from New Zealand All Blacks and the Aussie Rugby League codes we focus on developing rugby-specific skills. Following the principles of the Montessori toddler development phases, we use equipment and balls that are scaled down to match the size of the toddlers hands and feet. This helps them hold the ball naturally and builds confidence.
Our toddler rugby classes use mini rugby balls are reduced to scale to enable each child to hold the rugby ball like an adult can with a full scaled rugby ball. This encourages precision and dexterity to build the right fine motor skills from an early age. This produces mini and micro motor skills in the hands and fingers of the toddler. It is a toddler centric and gentle method our little ones the fundamental movement skills of rugby. All the equipment used in our toddler classes has been specifically designed and selected for toddlers 18 months to 3 years.
Why not pop along for a free rugby taster by clicking the button below?
S4K Toddler Football Classes
A highly technical football program is based upon the worlds class football philosophies of the Dutch Coerver, Spanish Tikka Taka and the Brazilian Futsal methods. A beautiful introduction to the beautiful game. Core motor skills and balanced physical development starts early as we focus on both feet from this age - helping our toddlers with becoming comfortable in using their weaker side for skills, dribbling and shooting. Good habits from an early age! Being balanced and two footed really does start this early.

In our toddler football classes, the children gain greater motor control whilst developing their co-ordination, balance and full body control mechanisms. We introduce them to controlling the ball and share with them the concepts of trapping the ball and dribbling with the ball.
Early development of eye and ball co-ordination is critical in order for the children to feel comfortable and natural with a football. They learn to kick both stationary and moving balls to identify targets and most important of all – score some goals!

Celebrations, the louder and more extravagant the better, are all part of parent and child enjoyment of the moment. We want toddlers to be excited every time that they come to S4K toddler classes and scoring goals is the perfect opportunity for them to realise that they have succeeded and are the best in their world! What better confidence builder than scoring goals! After progressing through our S4K toddler class, our children move onto our S4K Kickers group and onwards up to our S4K Tournament, Academy, S4K FC and S4K Professional programs to take them through to their teens.
Why not pop along for a free taster by clicking the button below?

S4K Toddler Dance Classes

The S4K Toddler Dance Classes are based upon Street Fusion dance themes. Toddlers are welcomed with magic wands and shaking pom, and join in as soon as they are able to walk. We encourage mums and dads alike to get involved, helping with wiggling and shaking along with their toddler and helping them interact with other children. Our S4K Dance Entertainers are packed with energy, ready and waiting to introduce them to the explorative world of dance with all of its variety of movement, steps, rhythms and beats.
We start with a welcome name to make you feel at home, build relationships and confidence in our toddler. You get to meet other mums and dads as toddlers relax in a full on fun environment. We slowly give them the opportunity to show us their favourite dance moves as they call out their name.
This starter class focuses on using imaginative play and story-based activities to introduce new ways of moving and engage children and toddlers in dance. We use fun music from their favourite TV programmes and Disney tunes to beats from around the world. There is a wide selection of props during free for toddlers to pick up, explore and play. This helps them settle in and to become familiar with their surroundings. Props also helps introduce various moves and the fundamentals of dance. Other, including floor spots, hoops and cones help with understanding order and helps teach them numbers and colours. We use gestures such as pointing, bending, stretching, clapping, stamping, wiggling and spinning to get them used to moving different body parts.
S4K Toddler Classes help your child's development during the pre-school years, with a particular focus on enhancing motor, cognitive and social skills with peers, which is great preparation for the pre-schools and school life in line with the Early Years Framework (EYFS).
Why not pop along for a toddler dance class free taster by clicking the button below?

S4K Tennis Toddler Classes
S4K Toddler Tennis Classes are part of a tennis skills based coaching program for children 18 months to 3 years. Our toddler tennis classes have been specifically designed to develop every child's physical, psychological and social skills. We teach the fundamentals of movement and motor skills in order to lay the foundation for technical tennis coaching as children get older. Our toddler tennis classes feature the wonderful S4K Sports Entertainer team, trained and specialising in toddler communication and development techniques.
Toddlers learn in a number of way including audible, demonstrations, Imagineering through stories and cartoon characters and by physically doing and experimenting.
In addition All of our toddler and kids tennis classes are designed around our easy to use S4K Tennis Player Pathway, which allows parents, coaches and children the chance to monitor their progression in learning new skills at every session. Sport4Kids is the only place to combine toddler and child learning of sport in a program that focuses on making sure that our children have fun, but also develop tennis skills and techniques that. Our aim is to engage every child with tennis fun, while using our innovative approach to nurture our children through to competitive youth tennis.
We have a unique toddler's class (S4K Tots) for children from walking age up to three years old. This unique class introduces very young children to the world of tennis. We use picture-book stories with cartoon animal characters to help your child learn and love the beautiful game of tennis. With great focus on agility, balance and co-ordination, we use specifically made smaller tennis racquets and tennis nets to get children active on our fun-filled tennis programme.
Why not pop along for a free taster by clicking the button below?

S4K Golf Toddler Classes

S4K Toddler Golf provides our little ones with exciting and imaginative golf themed games. Whilst having fun, tots gain greater motor control whilst developing their co-ordination, balance and full body control mechanisms. We introduce them to individual and group golfing challenges further reinforcing sharing and turn taking.
Our golfing equipment is perfectly suited to a toddler swing, with light weight larger club heads to increase confidence in striking the ball. Whilst the larger foam balls have improved trajectory allowing toddlers to watch it soar into the air. This will give immediate positive reinforcement creating instant reward. Our Golfing Player Pathway demonstrates that children can be taught swing technique and elements of etiquette from an early age. We teach the basic golf movements and build up parts of the golf swing and object control.
Our golfing toddlers are treated with unlimited patience, good humour and re-enforcement. S4K Golf provides a fun and nurturing environment for toddlers to fall in love with a sport that really is a lifelong passion.
S4K Yoga Toddler Classes

There are lots of benefits for toddlers and mums. These toddler classes help increase body awareness, both for baby and parent. Yoga is a great way for Moms to regain their physical well-being, to re-energise their bodies, calm their minds, feel relaxed, and get back in shape. Yoga is a great stress buster for both parents and babies.
S4K Yoga is one of a kind, we teach the children basic yoga poses, however we do this whilst the children play and have fun in a calm supportive environment. We don't just sit on a mat and expect the children to follow along, we get them moving around using their imaginations to make their own poses as well as teaching them the correct technique for the basic yoga positions, all with mums help.
All our toddler yoga sessions are theme based and all educational, teaching them about different parts of the world, sea creatures, history and different animals. All these poses can be used in parent and child classes, in schools, and in nurseries. The children learn how to breathe correctly and how to implement this when they are angry, upset or need to calm down. We teach them the importance of stretching and all the different body parts we use with each pose.
It is very much a fun group experience that helps toddlers develop their physical and mental well being.

S4K Nursery Toddler Classes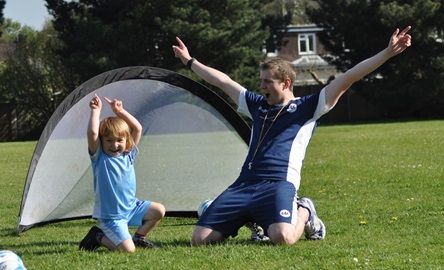 New S4K Nursery Multi Sports program is focused on helping toddler develop physical, cognitive and emotional skills and to prepare them for school life and beyond. Our multi-sport sessions are full of variety to engage and stimulate our little ones.
The detailed toddler curriculum follows the development paths and fundamental principles of the Early Years Foundation Stage – ages 3-5 (Nursery and Reception) curriculum has a two month cycle and we change up the activities and content through out the year.
We offer all Nurseries Football, Dance, Rugby, yoga, tennis and ActivKids sessions. ActivKids is Sport4Kids story lead session focusing on developing toddler fundamental movement skills. The story telling sets the theme and provides context and stimulation for our little ones. Throughout the storyline there are different movements and action with short activities to command their attention, Stories and characters in them are very familiar and range from Pepper Pig to Father Christmas. The children will be able to explore exercise whilst using imagination and playing.
Specific sport sessions such as football are more technical and based around core and mini motor skills aligned to the specific sport. In our Football classes we focus on the all famous, Spanish, Brazilian and Dutch teaching methods, with a more theatrical and entertaining approach. Again, this is based on themes to keep the children engaged ranging from paw patrol, to jungle theme.
Toddler Yoga sessions allows the children to learn the techniques of breathing correctly, whilst pretending to be animals, plants, warriors, fish and plenty more. We teach the children the importance of stretching and breathing and the names of stretches and what body parts are being stretched.
Dance in nurseries is teaching the children movement to music, getting them to use their imagination and move to the music pretending to be different characters, superheroes, Christmas turkeys, snowmen and sea creatures. They will also learn the basic movements and techniques for break and street dance. They get to do all of this by playing games and learning short movement/dance routines.
A typical rugby class will encompass how to pick up and hold a rugby ball, running with the rugby ball; we teach them kicking, catching, scoring tries and even conversions over our child sized rugby posts. The aim is to develop both hand-eye coordination and foot-eye coordination for the rugby ball. At the same time, we capture the imagination of children with exciting imaginary games and energetic, smiley, happy and fun filled sessions.
Not only do we offer these fun filled sessions but we promise to help towards your children's learning by covering all of the EYFS criteria. We monitor your child's progress by ticking of everything your child has done in their very own nursery pathway book.
S4K Toddler After school Classes & Care Program
Sport4Kids offer after school care for tots aged and older children. We are not just a baby sitter, we have a structured session, allowing the children to have free play, teaching the children about physical wellbeing by putting on a session of sport either team sports or individual sports, we teach them about well being offering them yoga classes, allowing them to read, listen to music, play musical instruments. The children don't realise they are learning because they are always on the go having so much fun, playing whilst learning.
 
We encourage all parents to pursue taking part in some form of activity with their toddler. The best providers will always offer free taster sessions for parents and this will allow you to check out all of our tips in person!