KIDS FOOTBALL CLASSES & CLUB
In our S4K Strikers (5 to 7 years) we experience a rapid development in the skills and maturity of the children as sports players and team members. They get to combine and hone their skills in exciting games and activities that help them to develop their touch, sense of space, movement and their positions on the pitch. They learn to defend, to attack, pass and move in small sided games.
Dribbling skills with the injection of the Dutch Coever method for emulating football superstars and the moves that have made them great are introduced. The drag backs, back heels and Cruyff turns are all actively encouraged as kids continue the fun games while participating in high skill development sessions. Children are actively encouraged to run with the ball, while also receiving coaching on close passing movements via our Tiki-Taka drills. The team sense of bonding and working together is emphasized at this stage as we emulate the philosophies of the Spanish, Dutch and Brazilian methods.

All of our games with S4K Strikers are framed in a way that develops confidence by beginning with zero pressure learning – where Strikers are encouraged to learn at their own pace before stress is gradually introduced across a period of four weeks. The games are fun for the Strikers, but teach basic footballing principles such as control of the ball as well as the "Look, Pass & Move" mantra of the successful Liverpool teams of the 70s and 80s. All of our games at this age are "non-tackling" and thus skill enhancing – allowing the development of vision and spatial awareness that other football clubs do not teach.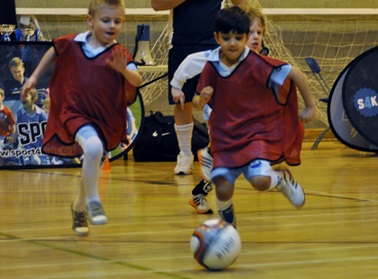 Playing constantly with the ball accelerates the young players touch and feel for the ball helping them to master close control in smaller spaces and enhance their togetherness and teamwork.

Within Strikers classes, our coaches focus not only on teaching children how to perform a skill, but also to put that into the context of small sided games where they get lots of touches, involvement, running and competing with each other and in teams. The use of small sided games has been shown to allow children of all abilities to increase their confidence and develop their skills through a greater number of touches of the ball. Everything is done with the ball and always fun, while we hold skill development and dreams of the agenda.

Strikers enjoy a series of exercises and other activities that use creative play and familiar games to build comfort and confidence, visual skill and team participation to engage the interest of the child and develop maximum enjoyment from being part of the group. Our Strikers are able to participate in not only our S4K Skills Classes, but also our S4K Football Tournament. The Strikers level is about introducing children to the team aspect of football, developing their individual skill and confidence levels and building a player for the team. After our children have progressed through our S4K Strikers, we move them onto our S4K Academy group and our S4K Football Club.
Why not find your closest location and pop along to see us for a Free Taster by clicking the banner below?