TODDLER RUGBY CLASSES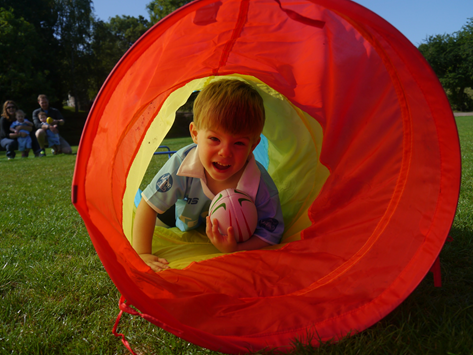 S4K Toddler Rugby is aimed at providing our little ones with their first introduction to sporting life and ranges from 18 months to 3 years.

Toddlers are able to join in with exciting and imaginative games aimed at introducing them to structured learning and social skills like turn taking. This is not just an introduction to rugby, but also for life in nursery and pre-school as we include key Early Years Framework initiatives.

Our rugby toddlers will walk, run, listen and take direction from our coaches as well as mum and dad in our parent-child tots class. Learning to learn and experiencing group activities are all part of the S4K Rugby entry level experience.

Our rugby ball is specially designed, small and weighted, and provides our toddlers with experience of the shape and behaviour of the ball when dropped, kicked and thrown. Our S4K Rugby Player Pathway demonstrates that children can be taught precision from an early age and the size of our ball assists with learning the correct holding technique.

Our rugby toddlers are treated as individuals by our coaching team and our aim is to build every child's confidence level through rugby. Oodles of patience, good humour and bucket loads of re-enforcement are used to encourage engagement levels at this age.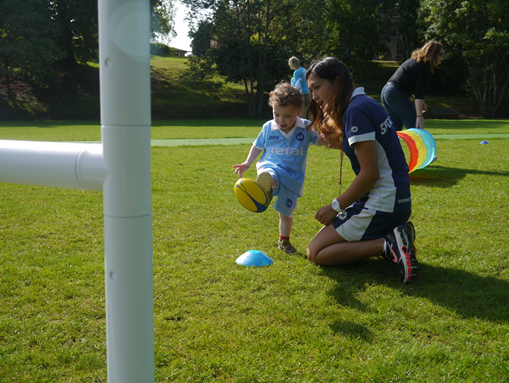 In our toddler activity classes, tots gain greater motor control whilst developing their co-ordination, balance and full body control mechanisms. We introduce them to controlling the ball, squeezing it and holding it closely with both hands, as well as kicking goals with our specially designed rugby posts.

Our S4K Rugby Player Pathway encourages development of hand-eye and foot-eye coordination from a young age so that our toddler's feel comfortable and natural with the ball. Lots of celebrations and cheers are the flavour of the day as our toddlers feel like champions kicking conversions and scoring tries after negotiating tunnels and hurdles with their favourite rugby ball.

The bond between parent and child during our sessions is special and the circle of trust between coach, child and parent allows us to improve every child's skill level in rugby and other areas of the Early Years Framework.

Once our rugby toddlers have completed their Practice@Home progression book for the S4K Toddler Rugby class, they are promoted to our S4K Cubs group...