TODDLER FOOTBALL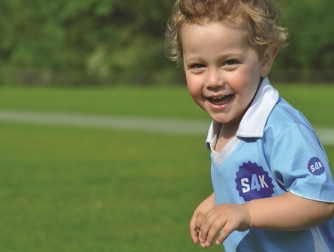 S4K Tots is for babies and younger children beginning their activity sporting life and usually ranges from 18 months to 3 years (although we do have some children who join us at 16 months). Child development - motor, cognitive and social - is very important at this age.
Based on the Montessori child learning method and the Dutch Coever, Spanish Tiki-Taka and Brazilian Fustal coaching techniques, S4K Tots provides toddlers with the perfect introduction to the beautiful game.
Toddlers are able to join in almost as soon as they can walk, run and listen to instructions and have fun in a collective group setting. Parents take part in the class at all times with their child, as our S4K Coaches get to know all of the toddlers and help them learning new skills and activities. Over time, our Tots become more independent and take part in the class with less assistance from mum and dad. Toddlers are encouraged to learn the basics of listening and toddle around with footballs and play with their new friends.
Learning to learn, experiencing group activities, sitting, standing, walking and running in line and turn taking with friends is all part of the S4K entry level experience. Our exercises are designed for toddlers to use their imagination and our warm up sessions are aimed at getting them to listen to simple instructions and interact in activities with their coaches in a fun, humorous and easy to follow play environment.
Simple problem-solving activities provide the perfect informal game focused classes for encouraging our fledgling footballers to advance their basic attention and listening skills. All activities are framed in a way that guarantees to get Tots smiling, giggling and enjoying the S4K experience while learning skills. Building confidence and feeling at ease is a key part of carefully designed toddler activities at this stage. By interacting in fun games, that include activities with movements our toddler activity classes help kids build their physical confidence, practice new actions whilst watching others and copying their peers. We focus on both feet from this age - helping our toddlers with becoming comfortable in using their weaker side for skills, dribbling and shooting. Good habits from an early age!

Simple show and tell techniques and activities with oodles of patience, good humour and bags of re-enforcement from the coaches is key part of the kids' early classes. Treating each child as an individual and providing parents with feedback on how well each child is doing is all part of a very carefully designed experience. Parents play an active role in their child's development using our Practice@Home book, which provides them with all of the skills that our S4K Tots curriculum is teaching their child so that they can play together at home.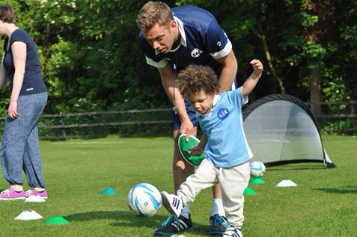 In our toddler activity classes, young children gain greater motor control whilst developing their co-ordination, balance and full body control mechanisms. We introduce them to controlling the ball and share with them the concepts of trapping the ball and dribbling with the ball. This is all done and watched in closeness with S4K Coaching Team to instil the essential basics in all our tots.

Early development of eye and ball co-ordination is critical in order for the children to feel comfortable and natural with a football. They learn to kick both stationary and moving balls to identify targets and most important of all – score some goals!

Celebrations, the louder and more extravagant the better, are all part of parent and child enjoyment of the moment. We want toddlers to be excited every time that they come to S4K activity classes and scoring goals is the perfect opportunity for them to realise that they have succeeded and are the best in their world! What better confidence builder than scoring goals! After progressing through our S4K Tots class, our children move onto our S4K Kickers group.
Why not find your closest location and pop along to see us for a Free Taster by clicking the banner below?