Play S4K Cricket Games

What is Disco Diamond Cricket? Is it a Party? Is it an Indoor Cricket Game? Is it a Diamond?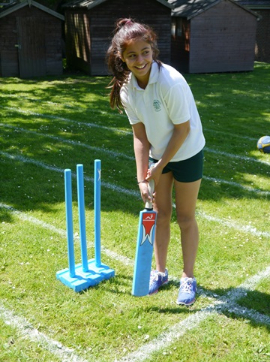 Yes, the S4K Indoor Cricket Game is all three… and many things more! It's fun, entertaining and for all girls and boys of all abilities. It's a set of cricket games, with cricket tips, training and a cricket match played to a background of entertaining music.
There are some very special rules to get every child involved, playing cricket games for the maximum time having fun, taking turns whilst learning new skills and making new friends – all whilst children enjoy the party atmosphere.
Children are sure to have a great time, so come on, get your child playing cricket and join the game. With skills and entertainment at its heart, the new S4K kids cricket programme aims to inspire all children, with fun cricket games, encouraging kids aged five to fifteen to take up cricket.
Disco Diamond Cricket provides a great first experience of the game and engages with a new audience of potential cricket loving fans. We are excited to bring Disco Diamond Cricket to life and welcome all comers, beginners, new players and their families to S4K Membership.
Why the New Format?
The S4K Disco Diamond Cricket format is unique and developed to get all children involved throughout the whole duration of the game. It is great for those who have never played before, or tend not to get involved in much sporting activity, as it is fun and entertaining all the way through.
Children get to play an actual cricket game from the off, whilst they get cricket playing tips and taught some of the basic skills. Everyone gets a turn and build their catching, throwing and running skills.
S4K Disco Diamond Cricket encourages both girls and boys and children of all ages and abilities to get involved in cricket and in an active participating way. Having fun, learning new skills and developing a healthy lifestyle for sport, preparing them for academic success.
S4K Cricket will take place indoor, in order to let our children get some exercise in the Winter months, keeping them active during the cold British weather.
Yes, it is a 'Disco', as the children get to play cricket to music and even get the chance to be the DJ! All matches are played to a background of music which creates a great party atmosphere, to encourage children to have fun playing sport. It is great to involve non-sporty children, and girls that like to socialise and get a feeling of belonging with new friends.
There are some warm up exercises, followed by children participating in an 8 per side match, getting the chance to play as part of a team.

S4K Disco Diamond Cricket is available at a limited number of venues, for girls and boys, children between 5 and 15 years, and to only 16 players at each session, so click on the 'Book Now' button for the correct age group below to secure your place. The sessions will last 1 hour and children are asked to bring a water bottle and light sports kit and comfortable footwear for running and dancing!