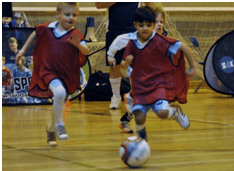 Our S4K Football Tournament truly is a special fun event, bringing together our S4K Strikers and S4K Academy members from across all of our venues to compete in an exciting and energetic afternoon of football.
Our kids get their first taste of competitive football through small sided games and no goalies to score extra goals. It is great fun for all the family with mum, dad, brothers, sisters, gran and grandad all cheering from the side-lines! We also have to remind gran that she is not allowed to play!
At the S4K Tournament we use low pressure, no tackling rules for our S4K Strikers to encourage spatial awareness and vision as well as the passing football that they have grown to love since the beginning of S4K. This really helps them enjoy and build their teamwork, giving the less confident more time on the ball.
Our S4K Academy play under slightly more levels of pressure, with time limits on their possession of the ball to three seconds as well as a minimum number of passes before being able to score a goal.
Frequently Asked Questions
Never been to one of our S4K Tournaments? Take a look at some of our frequently asked questions below and book your place today...
---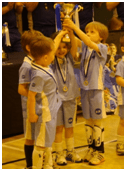 Our S4K Football Tournament is an all-inclusive affair, with all children guaranteed to walk away grinning from ear to ear and showing off their shiny medal to neighbours and school friends for weeks to come.
Our next S4K Football Tournament is always around the corner so either click below to book or come and join at of our venues for a free taster session. Our coaching teams will inform you about how your child and the family can register for the next Tournament and join in all the fun!