TODDLER DANCE CLASSES!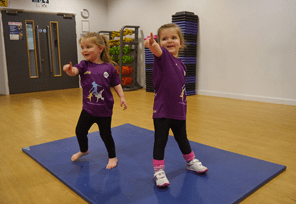 Our S4K Tots are welcomed with shaking pompoms and magic wands as soon as they are able to walk, usually up until they are around 3. At the youngest age at this level, we encourage mums and dads alike to fully get their groove on, wiggling and shaking along with their tot and helping them interact with other children (our dads do tend to make the better dancers…).
Our S4K Dance Entertainers are packed with energy, ready and waiting to introduce them to the explorative world of dance and its array of steps, rhythms and beats.
Our name game aims to build relationships and confidence in our Tots by slowly giving them the opportunity to show us their favourite dance moves as they call out their name. This starter class focuses on using imaginative play and story-based activities to introduce new ways of moving and engage children and toddlers in dance. Experimentation with various props during free time before the class begins, helps the children to settle in and to become familiar with their surroundings. It also allows us to introduce the fundamentals of dance to our toddlers in a relaxed and full on fun environment.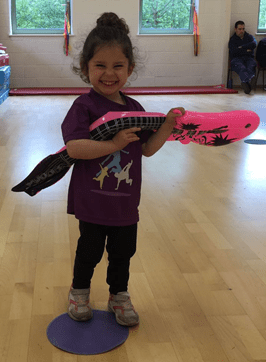 The use of equipment such as cones, hoops and floor spots contributes to the learning of colours and numbers as well as helping them understand the counts we use in dance. Your tot will become more aware of their body and the parts of the body that are used during actions and gestures such as pointing, bending, stretching, clapping, stamping, wiggling and spinning. We will introduce different levels, speeds and weight and move to counts and music from their favourite programmes and Disney tunes to beats from around the world.
All of the teachings from our Entertainers in our younger age groups complement the Early Years Frameworks (EYFS) that governs child development during the pre-school years, with a particular focus on enhancing motor, cognitive and social skills with peers.
As the tots progress through our dancer pathway, we gradually increase the separation periods between parent and child. We will begin to encourage parents to sit at the back of the class as their child learns and then to become the audience, sitting at the front of the class to watch the end performance, finishing with big rounds of applause and not forgetting a sticker! Once our dancing toddlers have progressed through the Tots phase, we welcome them to our S4K Movers class…