KIDS & CHILDREN'S TENNIS CLASSES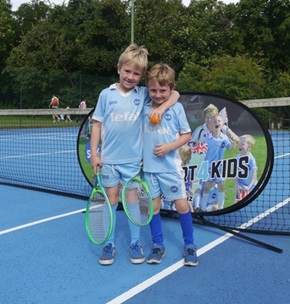 At S4K Diddi Tennis, kids are able to advance their tennis skills in activities that are designed to build on the mini and micro motor skills embedded in our toddler tennis classes. New children are also welcome to start with S4K Tennis at this age as our classes are designed to provide a foundation for tennis skill development, no matter the level of experience.
Our Diddi Tennis group once again uses unique pieces of equipment to develop hand-eye and racket-eye coordination, building every child's ability to enjoy and play tennis. Mini tennis nets, chistellas, magic balls and balloons are just some of the innovative methods that we use at S4K to teach our children tennis skills using the Montessori education technique. Building confidence is once again the key mission – introducing tennis skills to children in a fun and engaging manner.
Activities for the children are all wrapped in topics and games that children find exciting to take part in, encountering popular children's TV and movie characters and themes that children enjoy, such as space adventures and transport. Our Diddi Tennis age group addresses a number of the Early Years Framework (EYFS) criteria, which prepares children for nursery and school. The tennis program is based on our in-house research, development and analysis of the Big 5 Tennis Stars - Murray, Djokavic, Warwinka, Federer and Nadal – breaking their strokes, footwork and movement down for our children's tennis classes. Children spend time working on their forehand, backhand, volley and serve in our kids tennis classes, before putting these strokes into practice over our mini tennis nets with our age appropriate rackets.
Once children have graduated through our Diddi Tennis program, they enter our Mini Tennis (5 to 7 years) group.