The Olympic Games is bound to prove an inspiration to people right across the globe. Whether they're aspiring athletes with an eye on Tokyo in 2020 or enthusiastic amateurs eager to push themselves to achieve their own potential, the action in Rio is sure to prove a big motivating factor as they hit the gym in the coming months.

Yet what does it actually take to be an Olympian? And what lessons can we learn from the sacrifices that were made by the medal winners in Brazil? 

The daily routine of a history making gold medal winner

Luckily, we are able to see exactly what it takes to become a success on the biggest stage thanks to the insight of gymnast Gabby Douglas. 

Douglas made history in Rio when, along with Aly Raisman, she became the first American to be part of two gold medal winning teams. Typically, this competitive sport sees athletes get just one shot at the Olympics so Douglas' routine has been a crucial part in helping her to buck the trend.

Before heading to Rio, Douglas shared the secrets of her routine with Cosmopolitan.

In the diary of her day she begins by getting up at 7am and having a breakfast of oatmeal and banana with tea before a four-hour practice session from 8am until 12 noon. The only breaks she takes are for water to stay hydrated.

She then breaks for lunch – chicken breast and asparagus followed by almonds dipped in dark chocolate. Then, after catching up with some fellow athletes she heads back into a solid two hours' worth of practice.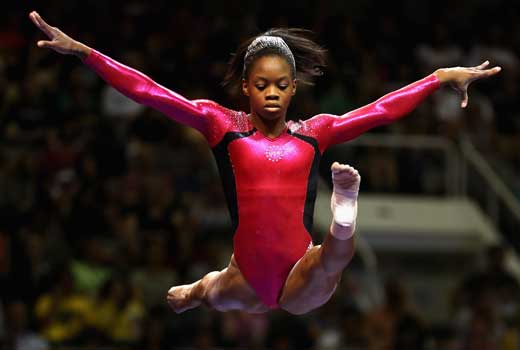 That's followed by a shower and ice bath before an evening meal of salmon, green beans, pasta and a little bit of homemade gingerbread.

Meditation and relaxation follow before bed time.

The lessons we can learn from an Olympic gymnast

It's worth noting that the life of an athlete is a full time pursuit. With six solid hours of practice in a day, Douglas is on the mat almost as long as a nine-to-five worker is actually behind their desk. Top level performers need to show a professional attitude to their routine in order to succeed.

It's important to note how the gold medallist's food is geared towards fuelling her routine. Her breakfast is all about taking in the energy she needs for a grueling four-hour session on the mat and her lunch is packed with protein to help her muscles to recover in time for more action in the afternoon. In the evening too she's doing all she can to get a good balance of carbs and good fats along with fresh vegetables.

She also earns the right for a treat to cater for her sweet tooth – showing that such things aren't completely off limits!

It's this dietary balance that everyone must aspire to if they are to achieve their own workout goals. Gold medals might not be in everyone's sights, but everyone's achievements are relative and can only be achieved by embracing the lessons of role models such as Douglas or any of the Team GB heroes who returned home with medals galore. Protein is crucial to build, repair and grow and that's why many may need to top up their intake through the smart use of Fysiqal supplements so that they get the right balance.

A balanced diet, a strict and well-planned routine and lots of intense practice are intrinsic to the day-to-day lives of the Olympians we've seen draped with medals in Rio and these factors are all vital for helping anyone to forge ahead with their own regime.