Broomfields Leisure Centre in Appleton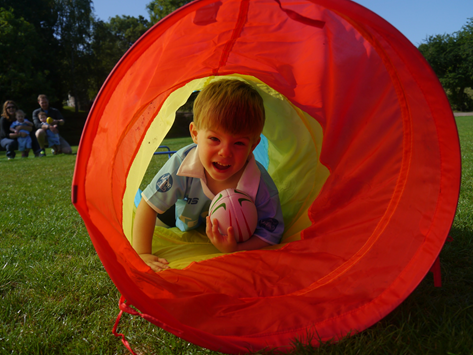 Sport4Kids are delighted to announce the launch of our toddler and kids rugby and football classes in Warrington! The UKs most up and coming sports coaching organisation are thrilled to enter into partnership with the leisure centre management chain Live Wire to bring our S4K children's sports classes to the Broomfield Leisure Centre in Appleton, Warrington.
Darren Rowbotham, S4K Warrington Partner Franchisee, is excited to get started, "I can't wait to get the S4K mission to revolutionise children's sport mobile here in Appleton – starting with rugby and football with a view to moving into toddler and kids dance and tennis as the year moves forward. We are looking forward to bringing a high quality, skills based curriculum of sport to the Warrington area – starting with the Broomfields Leisure Centre".
The S4K Football program is based on the Dutch Coerver method, blended with the Spanish Tiki-Taka and Brazilian Futsal. The S4K Football mantra is "Trick like the Dutch, Pass like the Spanish, Dribble like the Brazilians and Entertain like Walt Disney!". Sport4Kids' Football is unrivalled in the market on its commitment to skills based coaching. S4K understand child development and classes are available from 18 months, with tailored activities and curriculums to help each child progress in every class. S4K will be launching their S4K Tots (18m to 3 years), Kickers (3 to 5 years) and Strikers (5 to 7 years) at the Broomfields Leisure Centre.
The S4K Rugby program is aimed at toddler and kids from 18 months to 11 years. S4K Rugby is based on the precision and ball handling techniques of the Australian Rugby League and the All Blacks Rugby Union sides. Sport4Kids use tailored balls that are designed specifically by our team of researchers for our children to ensure that they learn the correct motor skills from the youngest possible age – providing the basis for advanced skill development as they progress through our Tots (18m to 3 years), Cubs (3 to 5 years) and Lions (5 to 7 years) programs. For more information on S4K Rugby – click here!
Sport4Kids toddler and kids football and rugby classes open at the Broomfields Leisure Centre in Appleton on Saturday 25th February 2017. Reserve your child or toddler's space today for a 75% off discount by clicking here for football and here for rugby. .