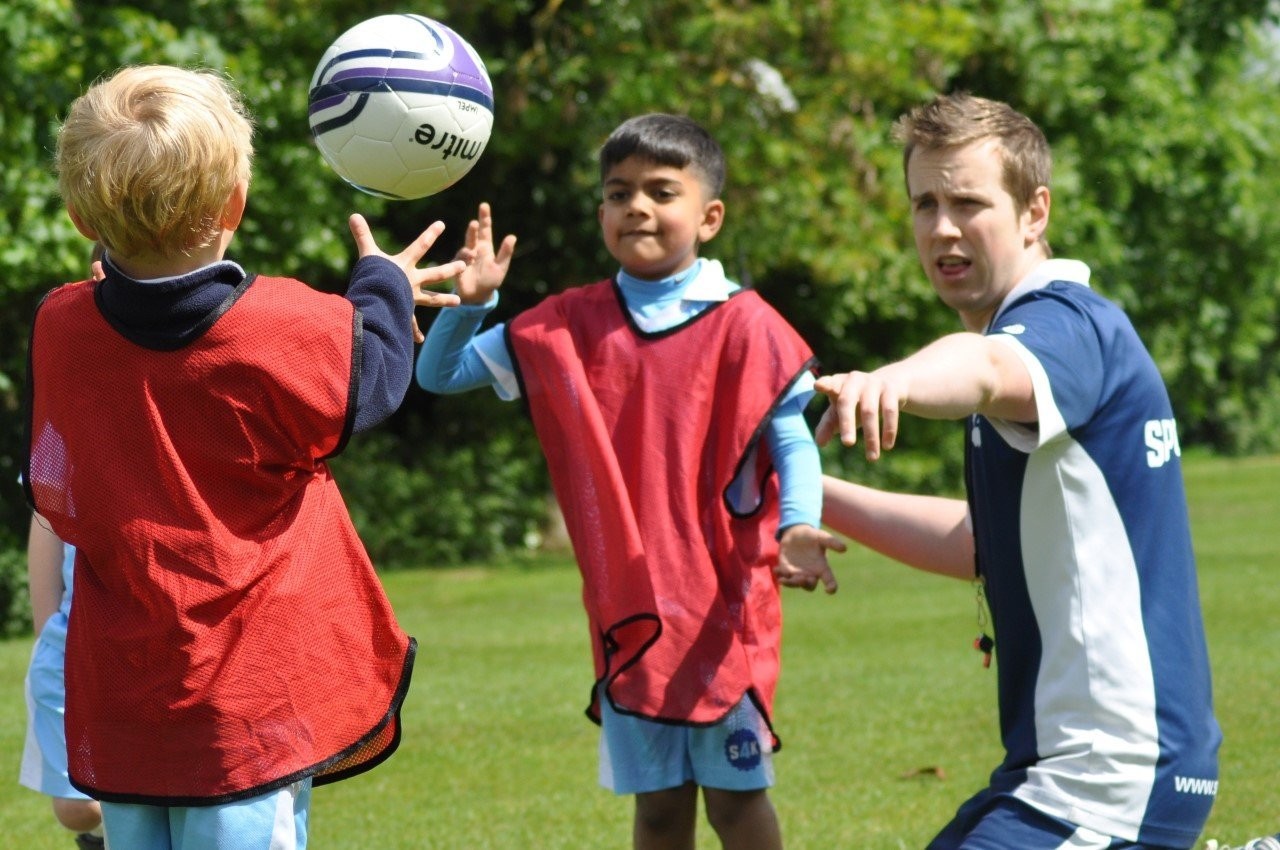 Hello, this article is for mums and dads wanting to teach their toddlers, children and older kids to play football from the start. You want them to have fun, keep up with their friends or even make the school football team? Right, so how do you to get your child game ready? Here are our S4K Ten Easy Steps to Teaching Kids to Play Football.

It does not matter whether this is for your newly walking toddler or rampaging kids or your traumatized teenagers wanting to make it with their friends at school, in the garden and in the park. Our ten steps has something for them all.

1. For absolute beginners and toddlers, first introduce them to the ball and share with them the fun of playing with and kicking the ball. For Toddlers we tell them that in football we only use our feet not our hands. This might need a little persistence and good humour. Hold your hands up and say "Do we use these in football?" or "What don't we use in football?" - answer comes back "No" or "What do we use to control the ball with?" pointing to your feet. The answer comes back "Our feet!". Actions and getting them to repeat or answer questions re-enforces this to our very little ones.

2. Teach them to put their foot on top of the ball. You can get down on your knees and help them put their foot on the ball. Ask them to change their feet and do it with the other foot. Then when their confidence is growing, gently roll it forwards and backwards. Putting their foot on the ball allows them to build confidence that they can control it and keep it with them. It helps them develop balance and core strengths. It also which allows them to look up and see where they are going to kick it. The added benefit is this helps children have confidence to control the ball without using their hands.

3. Next is to explain to them about controlling the ball when it is moving towards them and to not let it run away. Gently role the ball towards their feet. Show them the different parts of the foot they can control the ball with. At this early stage share the control the ball with the side of your foot. A tip is to demonstrate yourself using the ball, then ask them which is the sole and which is the side. For the older ones you can advance this by showing them which is the laces part of the foot. Gentle progression is the aim here just adding little pieces as thye build confidence.

4. Now we start to teach your children to kick properly with the side and the top or laces part of the foot. Some children get stuck at toe ending the ball which means they have less control and the ball flies off. This is important as later when they develop leg strength they will be able to shoot better with their laces generating much more power and preparing for volleying and other advanced soccer techniques.

5. Next up is dribbling. Teach them how to dribble with little kicks, using both feet. Keeping it close and being calm early stages is important. The more touches and the closer the ball is to their feet the better. Lots of encouragement here. Perhaps use of a futsal ball helps the ball stick closer to their feet and not roll away too easy.

6. As your child builds their confidence playing football you can start to extend their learning and build their touch and feel for the ball further. You can now get them to move from having their foot on the ball to manipulating it. Get your children to roll it back and forth. Then get them to role it from side to side. For your older ones develop this rolling mastery to a drag back and a push forward to change the direction you are facing, this is a great asset for our budding Beckhams.

7. Next is too teach them some trickery and advanced football skills. A back heel is an easy one to start with. (Always clapping and encouraging every time they do something that even remotely looks like progression!) Then we can go for the toe taps that is putting alternate toes on top of the ball like a dance. Perhaps hoping backwards each time they touch it and pulling their and then perhaps the Cruyf turn for older kids football.

8. In children's and older kids football it is important for our little ones to understand that it is a team game. So the next crucial step is teaching them to pass the ball to other kids. Tell them to look up and pass. Ask them who they can pass to? Get them to point to one of the other children and then pass.

9. Then once they have passed the ball teach them to find space and ask for the ball back. Get them to shout "Pass to me". With older kids football get them to shout each others name to pass the ball.

10. Finally introduce them to the goal and get them to shoot, score a goal and of course celebrate! Get them to shout "Gooooooaaaal" – Kids love this and you can even have a competition on the best celebration. This is also a great photo opportunity!!

There you go these are the S4K easy ten steps to teach your children football – Your toddlers, children or older kids can now join in and even start dreaming of making the school football team with confidence. The most important thing we have found is to have fun and be patient with your children and always do little gradual progressions building upon simple skills and control. At every little improvement to encourage and we enthuse, cheer, clap and give lots of encouragement. A beaming well done will go a million miles to build their confidence and passion for our beautiful game.

It never ceases to enthuse me seeing them develop and have fun. Good luck with your own children and have great fun putting these steps into action. I hope you enjoy too!

Please pass on to other parents.