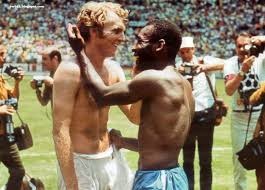 With the World Cup build up upon us and my children going mad for their Panini stickers it must be time for us all to reminisce about our first World Cup expereinces. My childhood memories of playing football with other kids in our street are as vivid and as real as if they happened yesterday.

Memories of the World Cup take me back to the old Jimmy Hill phrase of "Jumpers for Goal Posts" (or was it The Fast Show?). Those were the days when we actually did take our jumpers off and put them in piles to make the goals. No cones or pop-up plastic goals with nets for us.

Our jumpers, particularly in October and November, were the playing out ones. You know the ones that were made by a relative of some sort, a nan or a distant aunty were always good candidates. Or that one of mums that she presented to you after a failed knitting expedition. You will remember the homemade blue wool jumpers - heavy, long and saggy.

These were the ones that after one wear, were relegated to "playing out" status. They had fallen behind the pecking order of the ones that were OK to wear around the house and sit watching telly in the living room and were certainly not "going out" ones, or school or "visiting relatives" ones.
The one I particularly remember was an old saggy blue one, the cheap and nasty wool, mum had got the wrong sized needles and the big loops allowed the jumper to sag. On occasion coming in from cycling in the rain these would hang down like dresses and would get in the way of you running after the ball. These kinds of jumpers were big and awkward but they made great goalposts. Especially when piled up with your mates jumpers they would be big enough to be a real set of gaols. The biggger the better so you could debate whether the ball had hit the post or gone in the goal and you could dive safely on top of them, pretending to be Gordon Banks.

We were lucky to have a ball (undertones of Monty Python sketches here). Anyone with a ball in my street was God. Literally, they lived on another plane, they were considered aristocracy in our street. They were revered, because, if they deemed they were going home - oh dear - they would take their ball with them. On those days when the ball owner wasn't playing very well, they were losing or were winging about the rules or something we all had to show heightened concern for the ball owner. It was an unwritten law. The power of the ball owner was somehting we all aspired to.

So much so, that when Christmas came round, everyone dreamed of getting a ball and elevating our status within the football kids in the street. Anyone who got a ball were made up, chuffed to bits. It made you very proud; it gave you a little more power and equality with the other kids. Of course a ball didn't last long in those days – as we played with it all day – in the road, against the kerbs, shooting at goals painted on the garage, in the alley ways playing one on ones – the "caseys" as we called them then were scuffed up real quick. Then when the rain came they soaked up everything.

We loved the rain, sliding tackles and the mud. When the rain came we never decided to pack our game up and go home. We played on, not of this fair weather football today. "Come on you'll get the death of cold" shouts in those days were rarely heard, and even if the odd shout went out from a mum or dad they were ignored as a matter of course.

We loved the mud. Our knees, and hands and faces covered in the stuff. Sliding tackles were great fun, you felt as though you were a real footballer. In those days you just had to do a slide tackle. Mud and football went together. It was not like the pampered stars of today where every Premier League, and come to think of it most Championship pitches are formed of green base, a bowling green that is smooth and perfect. We played on, and on in the rain and pretended we were like the stars we worshipped.
We saw real mud bath pitches on the telly. Watching "Match of the Day" in black and white and "Sports Night with Coleman" players were often caked in the stuff. Amazing images of Derby Counties Baseball Ground where there was not one blade of grass and Stamford Bridge looking like some kind of cheap beach front with sand everywhere. And where there was no sand it was mud or soggy pools of water.

Mud was for the Winter and in the Summer we had the World Cup. My first memory of the World cup and my Panini stickers was the amazing 1970 Brazilians - Pele and all that.
It was also my first really upsetting encounter with bitter tearful disappointment. The England quarter final, after being 2 nil up and running away with the game before Gerd Muller, the flailing "Cat" Mr. Peter Bonnetti and the amazing Uwe Seeler created their own history. The loss to West Germany was turning point in my life, up till then the world was still a beautiful and blissful place where all your dreams come true for real. At that moment the World had ended, football had ended. To me as a nine year old it was tragic and the first time I had cried. I was shocked at the upset, why had the BBC shown it? (You know the way kids think and we all thought the BBC was in control of everything and was going to look after us and the goody would win in the end.)

I was shocked at my tears and wondered what to do next. It was then that I decided that I was going to help fight back and help England avenge that bitter defeat. The Germans were lucky that Alf Ramsey had taken Bobby Charlton off early, that Gordon Banks was injured and that somehow Alan Mullery had got on the pitch. So out I went with my mates and practiced to get ready for such a great avenging day. We played all afternoon and night till dusk. I suppose that is how I have reacted with every knock back since. Pick oneself up and go again and do what kids enjoy.

I then started supporting the Brazilians in the World Cup and consoled myself by filling in my last few stickers in my Panini sticker book. At least you could always rely on your Panini sticker book. Beckenbauer was the one that I had difficulty getting and that along with Jairzinho were the ones that completed my book.
Ah the Brazilians, my first Panini book and plotting to avenge that defeat by the Germans – What a wonderful first World Cup.
Perhaps children you know will be looking at this Brazil 2014 as their first ever World Cup. Why not get them a Panini Sticker book, treat them to all the excitement, put up the wall chart and watch the pundits build up to the greatest show on earth. Join in the analysis yourself, build up the excitement and passion all the way to the kick off on June 12 when Brazil take on Croatia in Sao Paulo. Do enjoy! and let the kids enjoy even more ....