Sport4Kids Announce Their Latest Network Partner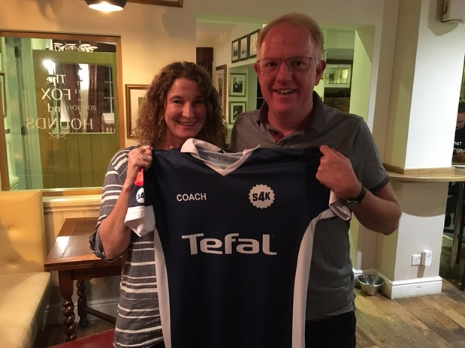 A big warm S4K welcome to our new Network Partner Joe Clark who has acquired the Richmond Middlesex territory, covering the London Boroughs of Richmond, Hounslow and parts of the Boroughs of Hillingdon and Hammersmith.

Joe is a major player and been a leading executive in media, data and digital businesses bringing a wealth of commercial and business experience to Sport4Kids. In his previous roles leading the Newspaper Division at Guardian News and Media or driving digital transformation as commercial director of Tesco's data business dunnhumby and at Autotrader, Joe made time to enable his passion for sport and children's education. Joe ran teams and coached kids football, cricket and helped in Schools with teams, PE and trips making sure the kids got a sporting opportunity. Joe brings decades of business innovation and leadership along with a great passion for sport and children's education and is a great fit for Sport4Kids.

As a devoted family man and taxi driver to two sports mad children, Joe has often been deeply involved in various local sports clubs and teams including cricket, football, athletics and swimming. Joe will be building a big growth focused business along with his wife Juliet who works in the education sector and has a passion for children's development and plays a key role in special intervention.
Joe says, "This is a wonderful opportunity to combine my love of sport, children's development and my extensive commercial experience. My aim is to grow a large business and leave a genuine legacy for my family and children's sport. S4K is a wonderful opportunity to make genuine contribution to the community and I am just so excited to get going.  I love cricket, football and kids rugby and enjoy all sports. Being based in Twickenham obviously kids rugby classes will be high on the agenda. The Richmond Middlesex territory is large with a lot of opportunity and already we have secured three venues…
Steve Jones, S4K CEO said "It is an honour to welcome Joe, his wife Juliet and their children to the S4K family. We truly like to partner with each of our network investors and I know Joe is going to make a big contribution towards our mission to revolutionize children's sport".  S4K Co-Founder and COO Dr Mark Gould added "Joe is going to fit in brilliantly with the S4K family.  We are all about smiles, laughter and revolutionizing children's sport.  Joe and Juliet fit the mould perfectly and we can't wait to get started".  

Joe and Juliet represent the highest calibre of Network Partner and have the ambition to develop a multi territory business. This will no doubt be to the benefit of the children, parents and as the network grows and shares the mission to transform children's sport.