A big warm S4K welcome to our new Network Partner Vijay Majumdar who has acquired the Bristol & North Somerset territories.  Covering the City of Bristol, Portishead, Weston-Super-Mare and surrounding areas.

Vijay joins us from the exciting world of software development, having headed up customer service and support functions in young, high growth tech companies.  He brings an innate passion for first-class service delivery and maximising smiles in general!  Most recently Vijay worked for an education-technology start-up helping support the delivery of better Apprenticeship learning systems.  Headhunted from a technology subsidiary of Hargreaves Lansdown, the Bristol based FTSE 100 financial services powerhouse, having built a high performing service division for the multi-million profit company.  He takes pride in growing strong, trusted relationships with colleagues and clients, and boasts a record of 100% retention of staff and customers in senior management. 

Vijay has grown a passion for sport since childhood having represented schools and local clubs at, as he describes, a 'recreational level' in football, rugby, cricket, tennis, and swimming.  This included captaining the school football team, and reaching the Under 18s County Cup Final.  During University Vijay was a regular for the first XV rugby team and a committee member co-ordinating social events, entertainment and sponsorship.
Vijay is married with two cats… his better half, Dr Sarah, is a Clinical Psychologist working in children's mental health services.  Sarah is passionate about children and families' social and emotional wellbeing.  She was also a sociable committee member at University, running many fun dance club events.  Together they are a dream team to launch and grow Sport4Kids around Bristol and North Somerset.  They launch in their new town of Portishead having recently moved house from Bedminster, Bristol.   They are expecting their first (human) child in February!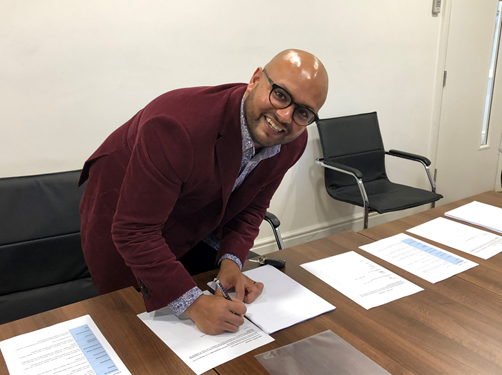 Vijay says, "We are absolutely delighted to join the S4K family, and thank Steve, Dr Mark, James and the rest of the S4K team for all their fantastic work to create a truly first-class proposition.  This is a brilliant opportunity to partner and grow a large business through the perfect combination of sport, children's development, and entertainment.  All under the assurances of the fantastic product, processes and the people we at S4K invest in, and the leading industry standards S4K commands."

"We have lived in the region for the last 8 years and we're really looking forward to contributing back to the community at a large scale, through S4K's continuous expansion and enhancement of services for kids and parents, and of course careers to those who share the S4K vision and culture.   We launch in Portishead and Henbury in February, and are determined to grow across Bristol and North Somerset as quickly as we can maintain the quality.  Most of all we are looking forward to having a great time along the way, developing deep relationships in the community, and putting as many smiles on as many kids as possible!"

Steve Jones our CEO said, "It is a true delight to have Vijay and Sarah join the S4K Family, they bring such joy and passion to an ever-increasing network. They epitomise the passion and commitment we have to revolutionize children's sport across the nation. The talent we are attracting to join us on our mission is so exciting. Please join us in giving a big S4K welcome to Sarah and Vijay."

James Porter, Head of Education, added "Vijay's background in innovation, entrepreneurship and along with strong customer service and operations background is an excellent addition to the team. It has been a pleasure in working with Vijay so far and it is great opening in the West Country."
Sport4Kids Co-Founder and COO Dr Mark Gould said "We are excited to expand our wonderful toddler and kids football and rugby classes in Bristol and Portishead. Later in the year we will target Kids Football and Kids Rugby Classes in Bristol and North Somerset. Kids Dance Classes are planned as well as Cricket and Golf programs. Exciting times!"
S4K Bristol are launching new kids football classes in Henbury and Portishead and toddler and kids rugby classes in Henbury and Portishead at the Henbury Leisure Centre and the Gordano Sports Centre. As part of the launch Vijay and Sarah are is offering a free taster and £1 for the first month of classes.

Click below to secure your taster today!