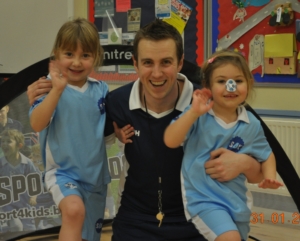 We are delighted to announce that we are launching another of our fantastic range of Sport4Kids Sports Classes at Beacon Sports & Fitness Centre – Tennis!
Our Sport4Kids children's Tennis classes are for a variety of age groups starting as young as 18 months with our S4K Toddler Tennis class! We have Classes launching at Beacon Sports & Fitness Centre, Stafford on the 1st November 2020, that will be running every Sunday morning from 10:10am.
Our S4K Toddlers Tennis classes for ages of 18 months – 3 years, our S4K Diddis Tennis classes for 3 – 5 years and our S4K Smashers 5 – 7 year olds combine fun, entertainment and imagination with Tennis skills. Using fun games and activities we help to develop the fundamental motor skills and specific Tennis skills in a unique approach which is proven to grow confidence and capabilities for all children.
Sport4Kids Network Partner, David Cox said "Sport4Kids Tennis classes are revolutionary and truly one of a kind – combining special Tennis cartoon characters for the 4 main strokes of tennis with an approach to learning which is unique and tailored to Toddlers and Kids. Our four Tennis characters are based on real top-level Tennis players and specific aspects of their game. The Sports4Kids approach to teaching mini and micro motor skills within a fun entertaining framework are proven to help young children learn new skills which form the basis for many years of healthy, active and fulfilling development. We are delighted to add Stafford as our 8th venue in the West Midlands / Staffordshire area."
If you click on the links at the bottom of the page you can book a free taster session for your child, you can book classes for the opening on the 1st November or for any following Sunday. We also have a special offer where if you sign up with us at your free taster session you save significantly on your one-off membership fee. Book your child for our exciting Toddler and Kids Tennis classes today!!!
The classes at Beacon Sports & Fitness, Stafford will take place every Sunday morning and be available for the following age groups…
S4K Toddler Tennis (18m to 3 years) – 10.10 – 10.55am
S4K Diddis Tennis (3 to 5 years) – 11.00 – 11.45am
S4K Smashers Tennis (5 to 7 years) – 11.00 – 11.45am
We also have additional Football classes for Tots and Kickers on Sundays at the same location – click here for more information.