Following the Government's announcement on Saturday, we are now preparing ourselves for Lockdown 2.0 starting on Thursday 5th November.
We have accessed and reviewed the latest information on the gov.uk website and wanted to share with you all the implications for our involvement in supporting your children's health and fitness over the next few weeks.
This is intended be a short sharp breaker to get the rate of infections down and has been given a fixed timeline. Hopefully this will help keep the energy levels up for the children and we can keep the momentum they have achieved since returning from lockdown earlier in the year. Our intention is to give you every support in achieving that.

Schools & Nurseries
Our team of amazing coaches will be continuing to support our school and nursery partners with PE, clubs and extended day services on the front-line during lockdown, helping to keep our children fit and active.

Holiday Camps
Our Ofsted registered holiday club provisions will be going ahead as planned during December from the 21st to 23rd inclusive as we continue to offer childcare support to our families. You can find your closest S4K Camp here https://sport4kids.biz/camps.

Weekend Sports Classes & Academies
At this current time, the advice is that these classes will need to be delivered digitally. We have enjoyed seeing our children return to venues over the past three months and are determined to continue the fantastic efforts that our coaches, team and families have demonstrated. While we need to pause our physical coaching sessions for now, we will be re-launching our popular Zoom classes. We want to keep our children moving and being in the very best shape for their return to the venues in one months' time.
During Lockdown 1.0, our Zoom classes were a great way for children to stay in touch with their weekend coaches and classmates, whilst also staying active and practising their skills., These classes will run on the same day, at the same time, with the same S4K coaching team. The Zoom classes will allow children and parents to participate from their home, both indoors and outdoors. We encourage children to still wear their kit, get into the team spirit, and continue to feel part of the great S4K experience.
We are as we speak, taking the coaches through the S4K Digital Pathway to ensure they are fighting fit to keep up the energy and entertainment over the digital medium.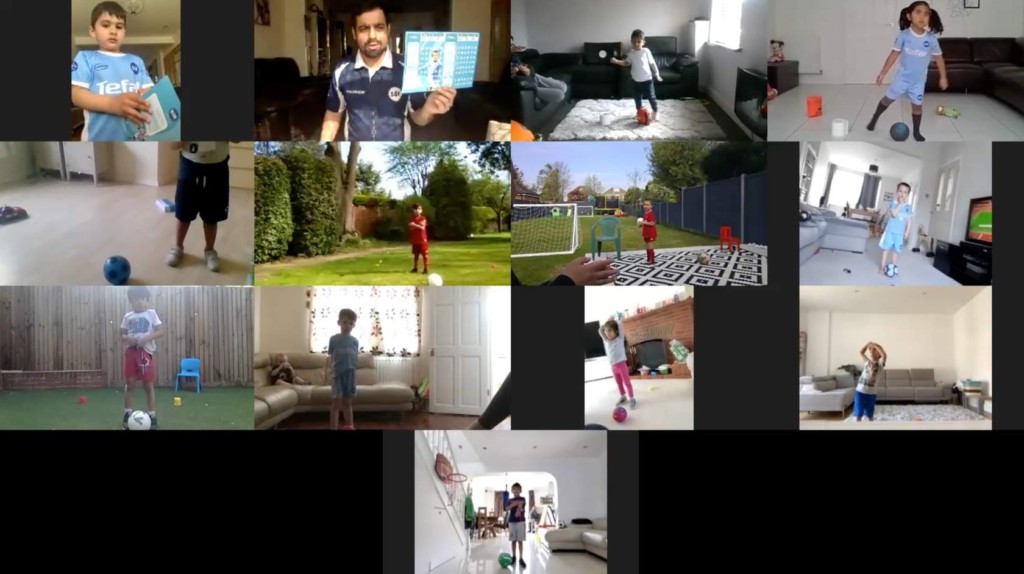 What if I haven't got the equipment I need for the class?
Don't worry, we've got you covered! Our equipment partners at RAM Sports have put together a series of Practice@Home kits that you can purchase. Kits can be found at: www.ramrugby.co.uk/collections/sport-4-kids where bundles are available at very reasonable prices for football and rugby. We will be communicating with our tennis, cricket, dance and golf classes separately with links for Practice@Home equipment.
If you are not in a position to purchase new equipment, items around the house can be used. Coloured cones can be replaced by coloured t-shirts or toys for example. There is always a way to stay active and sporty! If you have any questions or concerns about equipment required, do get in touch.
Zoom classes for all our weekend and academy venues will resume from Friday 6th November and will be delivered in the same venue and class groups as normal. We will be sending out details to you in the coming days on how you can access these classes via email and your class WhatsApp groups, which are being re-launched by your class coaches. Please look out for links and details and let us know if you don't receive these for any reason.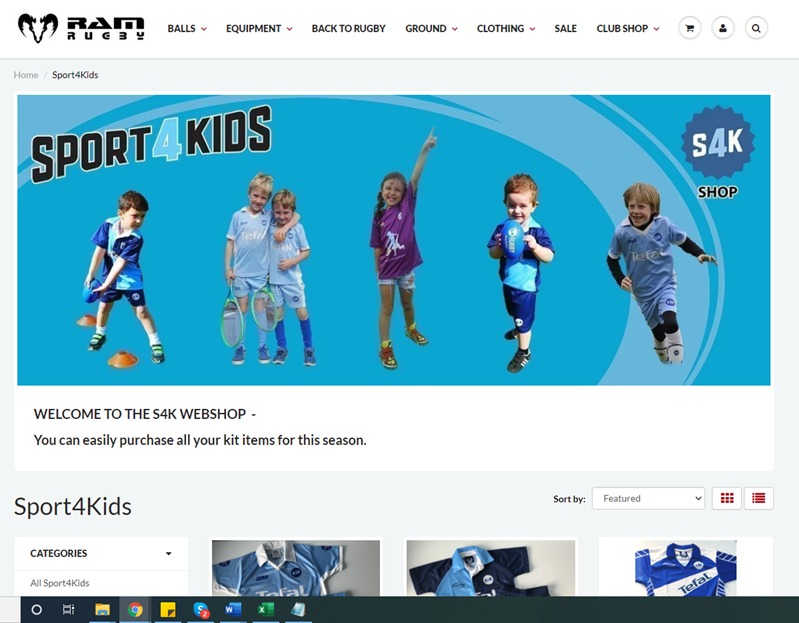 S4K Membership Fees
The government announcement at 6.30pm on Saturday 31st October came at short notice and didn't allow us time to amend any payments for November's membership fees, which were collected on the 1st November. The S4K Digital program will be charged at 50% of the monthly membership fee. Once we return to physical classes, your first month back will be reduced by 50% again to reflect the amendment for November. If you have any questions or queries on this please do reach out.

Our commitment to you
We are a child-centric and parent-centric organisation and are committed to supporting children's health and well-being. Sport and active lifestyles provide a valuable role in promoting health and healthy mindsets, supporting immune systems and fighting sedentary lifestyles.
We also have a responsibility to our coaches and staff who rely upon their work to pay their bills, mortgages, insurances and general living expenses. It is small businesses like S4K that will need support to keep going throughout this crisis and we thank you all for all your continued backing.
This is a difficult time for us here at S4K, where our sole business is providing sports classes and activities to children, parents, schools and nurseries. We want to continue to provide support to our families during this difficult time so that your children continue to receive the physical development they need and are ready return to usual classes when it is deemed safe to do so.
We would like to thank you all the kind messages of continued support that so many of you have provided. It is very much appreciated by the management team, coaches and all staff during a challenging year.
Keep smiling and active everyone.