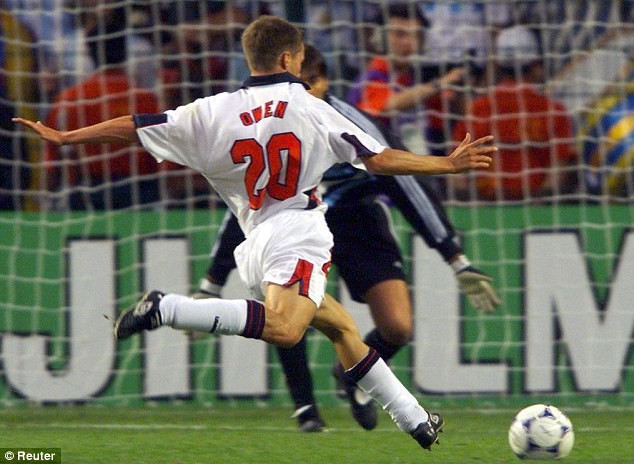 This year, the nice folks down at Panini have sponsored our S4K World Cup Tournament and supplied our children with sticker books and stickers so that they can engage with this summer's festivities and follow their favourite players. As part of this sponsorship, we at S4K have been tasked with writing a blog entry on our first World Cup memory. My first experience of the nationwide euphoria induced by England's participation in a summer tournament was in fact Euro '96, so by the time World Cup 1998 rolled around, I was a seasoned professional England spectator. I remember the build-up well, my dad even took me to see Michael Owen make his debut against Chile and to me, Mr Owen was the man I idolised for the tournament - but would Glenn Hoddle pick him? We had the young guns of Owen and Beckham pushing for starting places over the experience and aging legs of Sheringham and Anderton and the nation was pushing for change (much like this year...).

The tournament started well for England, a comfortable 2-0 over Tunisia, Alan Shearer and Paul Scholes grabbing one a piece as the opposition were laid to rest. England were the darlings of the press right from the first game! "In a group that featured Tunisia, Romania and Columbia, surely this should be easy" I remember thinking as a naive 11 year old. I learned my lesson shortly after, that England (much like my beloved Liverpool), always fail to do things the "easy" way. Michael Owen had appeared only as a substitute in the Tunisia game and was once again relegated to the bench for the Romania game, with Teddy Sheringham retaining his place. With England 1-0 down, Hoddle decided to bring on Michael Owen, much to my agreement - after all, I had been telling Glenn to do this for quite some time before he started listening to me. The impact was immediate and Owen scored the equalising goal (Glenn never did have the courtesy to thank me), but sadly Dan Petrescu (the former Chelsea man) scored a goal right at the death to take the three points for Romania...although Owen did hit the post right at the end!
The result sent the papers into a frenzy - lacklustre England, England's world turned upside down and such. So it all came down to the match versus Columbia, which took place in a my living room on a 28" Toshiba TV with a red leather sofa. I don't remember an awful lot of the match, but I do remember running into the garden to play with my brother after the match and mimicking Darren Anderton's strike, before falling to the ground and begging my sister to carry me off the pitch as I was too injured to continue (mainly to wind my brother up - he was a Spurs fan after all). What I failed to understand at the time was that England had finished second in the group, which meant we faced Argentina.

That infamous game against Argentina will forever remain in my memory. The penalty kick from Batistuta, after Seaman needlessly felled Diego Simeone in the penalty box (more on him later). My head was in my hands, looking up to my dad for reassurance that everything would be OK. Thankfully, Michael Owen (still waiting for that phone call Glenn), darted through on goal and was brushed down by an Argentinian defender - penalty to England! Alan Shearer stepped up - well did he ever really miss? 1-1 and faith in the world had been restored to this 11 year old boy! Things got even better when David Beckham (who was still in my good books at this point), chipped a ball through, that was expertly controlled by Michael Owen, who drove past one Argentinian defender, rounded another and then dispatched the ball into the back of the net. What a finish from an 18 year old! I was in my element - not only had my advice to Glenn truly paid off, but he was a Liverpool player too! Jumping around my living room, while my dad, ever the emotion regulator, clenched his firsts with a "yes!" (that's the most I've ever seen out of him).
England were going to win the World Cup! Liverpool had the best player in the world! I was king of my living room and had a new goal to mimic in my garden! For those that watched this game, you will be all too aware that the extra minute of injury time that was added on was where England conceded from a very cleverly taken free kick (one that actually undid Liverpool in the 2007 Champions League final too). My 11 year old heart was then further kicked by the stupidity of David Beckham (I never did forgive him) and the play acting of Diego Simeone (I never forgave him either - well it's only fair) and then the (as I am all too aware now) ever-frequent exit from a major tournament on penalties. All of this without mentioning the way my heart sank after Sol Campbell's (perfectly fair) leap into the air and crashing header goal was disallowed...football really can be cruel and should perhaps come with a recommended age certificate like those in the movies.
After seeing my world end in my own living room again (the world had already ended in the summer of 1996), I wondered how football could be so cruel? To hold a young boy up from such a height and then drop him callously to a tearful doom. My dad jumped up "well that's that for another year". I practiced penalties over and over again in my garden that day - determined that England would never lose on penalties again...