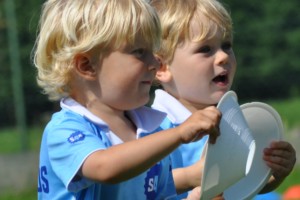 So, you've played or watched football avidly since you were a young child. You followed your heroes week in and week out, dreaming of pulling on the shirt and scoring that 30 yard screamer in the cup final at Wembley and then you got injured/old/out of shape/had a reality check/all of the above(!). But now you have a mini me and your dream has become one of happily kicking a ball around the garden for hours as the summer sun fades, reenacting that famous Cup Final goal (it should have been you!) And maybe one day your mini me will pull on that famous shirt for real!
So the hopes and dreams are there, you probably even have a football or two, maybe the latest kit and some cute little trainers (matching yours of course!) but how do you begin?
1. Have Fun! – Let your child explore & chase excitedly after the ball that they kick it. Don't worry if they spend more time throwing or picking up the ball to start with. As long as they are safe and having fun let's not worry about rules just yet a while!
2. Be Creative – Turn your lounge into a crazy course, use pillows as obstacles to avoid and kick the ball through chair legs, that crocodile soft toy can even patrol the course ready to gobble up anybody who comes near it – let your toddler's imagination run free. An S4K Toddler Football class regularly features pirates, zoo animals and racing cars!
3. Join In! – Almost everything toddlers learn is through watching others so lead by example. If they see you joining in and kicking a ball around then they will likely follow suit. At S4K coaches give regular demonstrations and also encourage parent participation.
4. Don't Get Technical – As much as you may want to show them the correct technique let them do it the way that they want, the focus is on their enjoyment and build in little tips along the way. The most important thing you can do is offering enthusiastic positive encouragement. Wild goal celebrations are something of a specialty at S4K Football!!!
5. Sign Them Up – Don't get ahead of yourselves, we're not talking about the big 6 here! Get them involved with S4K Football, we have weekend classes in Beaconsfield and High Wycombe. Our classes are fun, energetic, and creative – games are designed to encourage skill development and develop technique as the child grows in confidence.
So there you have it. In a nutshell, all you need is a ball, fun, creativity, enthusiasm and encouragement and your little superstar will be graduating from our S4K Toddlers to our S4K Kickers class before you know it!
Book a free Sport4Kids taster at High Wycombe or Beaconsfield and come and see us in action – you won't be disappointed.

Our Session Timetable is;
Saturday at Cressex Community School
S4K Tots (18m-3years) 9-9.45am
S4K Kickers (3-5years) 9.50-10.35am
S4K Strikers (5-7years) 10.45-11.45am
Sunday at Beaconsfield High School
S4K Tots (18months-3years) 8.30-9.15am
S4K Kickers (3-5years) 9.20-10.05
S4K Strikers (5-7years) 12.00-1.00pm