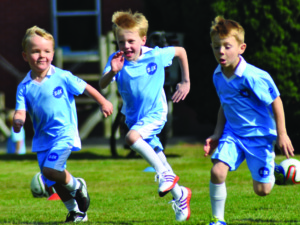 Due to popular demand, Sport4Kids are delighted to announce that we are opening a second day of toddler and kids football classes at the Cox Green Leisure Centre in Maidenhead.  We are currently operating football classes for toddlers and pre-schoolers through to Academy level every Sunday morning and will be adding an additional set of Saturday classes starting on the 3rd February 2018.  
Our S4K Football program is based on the Dutch Coerver, Spanish Tiki-Taka and Brazilian Futsal coaching techniques, wrapped in child psychology and entertainment.  Toddlers and kids learn skills in line with our S4K Player Pathway curriculum and develop the mini motor skills needed to develop highly technical football abilities.  
Our classes will be running as follows…
S4K Tots (18m to 3 years) – 10.10-10.55am
S4K Kickers (3 to 5 years) – 11.00-11.45am
S4K Academy (6+ years) – 09.00-10.00am
Why not pop along and see us for a free taster by clicking the button below?  

Adam Beckett, Head of Football at S4K, said "It is great that the S4K Way has proven so popular in Maidenhead.  We have sold so many spaces on the Sunday and demand is still so high that it seems natural to offer an additonal day to the family in the local community.  We already have a football club, our S4K Marvels, associated with the area and are looking forward to seeing more children join and start showcasing their skills in the local leagues".