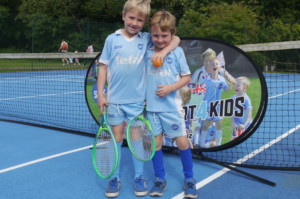 We are excited to launch our new Sport4Kids Tennis Classes in Farnborough. Our Sport4Kids children's tennis skill classes cater for 18 month old toddler and up 6 year olds. We have new classes launching at Fernhill School in May, that will be operating every Saturday. 
Our Toddler Tennis for 18 months – 3 years, our Diddis Tennis  classes for 3 – 4.5 years, and our Smashers Tennis for 4.5 – 6 years. We start off with exciting toddler tennis classes for the youngest children and build the core skills that will be used in competition at a later age. Our tennis classes have been specifically designed to develop every child's physical, psychological and social skills. We teach the fundamentals of movement and motor skills in order to lay the foundation for technical tennis coaching as children get older.     
As part of Sport4Kids, the S4K Tennis program features our wonderful S4K Sports Entertainer team, specialising in developing children from toddlers and upwards in order to improve their confidence, listening and social skills like turn taking and listening to instructions. "Our coaches don't just run classes. They develop skilful tennis players". Ensuring maximum participation, using fun games and activities we are devoted to helping develop the fundamental motor skills in an innovative unique way, which is proven to increase confidence and capabilities for all children.
The classes at Farnborough Fernhill School will take place every Saturday and will be available for the following age groups…
S4K Toddlers (18m to 3 years) – 10.10-10.55am
S4K Diddis (3 to 4.5 years) – 11.00-11.45am