The new Sport4Kids Development Centre at Cobham and Leatherhead will have two of our finest coaches at the helm, as they run the S4K Tots (age 18 months to 3 years), Kickers (age 3 to 5) and Strikers (age 5 to 7) sessions every Saturday morning.

Coach Matt Alder and Coach Nigel Parkes-Davis have been support coaches at the hugely successful Surbiton classes, under the stewardship of Area Manager Marcus Doyle. They've developed a great understanding with the parents and children there, completing all the training sessions along the way dedicated to getting the best from our team.

Both guys are really excited to be getting under way at their own venue, to meeting new families and starting them off on the Player Pathway road. They have seen the value of the system at other venues, and can't wait to get started.

So, come along and join them for a free taster session!
S4K FC Awards Ceremony Success!


Football Club Players Awarded for Achievements this Season
We held our Annual Awards Ceremony for our
Sport4Kids Football Club
on Sunday to honour all of the children, supporters and coaches who have been involved in a fantastic year of development. Hosted by S4Ks answer to Ant and Dec, Co-Founder, Dr Mark Gould, and our Head of Football Club, Adam Beckett, our teams were presented with awards including Top Goal Scorer, Most Consistent Player and Best Passer as well as Sport4Kids' unique Skills Master and S4K Way awards for those who attempted the most skills during the season and epitomised the passing football philosophy of our club.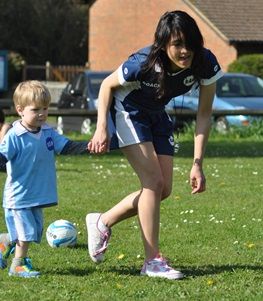 Toddler Football Classes Launching in April!

At our new Cobham and Leatherhead toddler football sessions, we start our children off early, taking development skills and games from our Early Years Framework and turning them into fun sessions designed to get our youngest members up and running on the Player Pathway, focussing on their balance, co-ordination and self confidence, introducing basic ball skills and, of course, scoring plenty of goals. We will use colours and numbers to help the children's understanding of the different drills we run through, and our specially trained coaches will ensure that every child gets the most out of each session they attend.

Our aim is that these early classes are the children's first steps on their Sport4Kids journey through to the football clubs, and that the parents have just as much fun as the little ones. Every Saturday morning, our S4K Tots (18 months to 3 Years) will get together at 9.15am; why not come along for a free taster session? Click here to book now!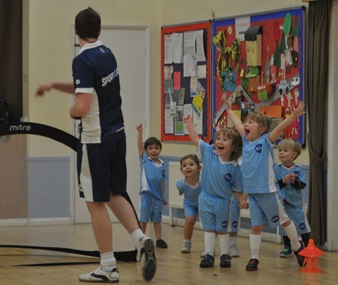 We are delighted to announce the opening of our toddler and kids football club in
Woking
! We are partnering with the Pyrford Primary School, where we already deliver our ActivKids natural exercise programme to bring our high energy and highly entertaining football classes to the local area!
Our new development centre will house classes for our
S4K Tots (18 months to 3 years)
,
S4K Kickers (3 to 5 years)
and
S4K Strikers (5 to 7 years)
every Saturday morning throughout the year.
Our football skills sessions are based on our S4K Player Pathway, which is our curriculum approach to coaching football, demonstrating how a child can progress from 18 months through to the teen years into the next Lionel Messi! Disclaimer: we cannot guarantee that your child will turn out to be a professional!. We can however, guarantee that every child will have fun and develop their skills.
Why not pop along and see us for a free taster session?
Register here today!
Coaches Win S4K Charity Match on Penalties
Our 7th Coaches vs Parents Charity Match took place in aid of Sebastian's Action Trust on Sunday 15th February 2015. Despite being the day after Valentine's Day, mums and dads managed to bring themselves along with the kids to take part in an afternoon of fun with their favourite S4K Coaching Team (in fact we heard one of the dad's explaining to his family that this WAS in fact the fun-filled day out that they had been promised this weekend...).
The fun was in high supply and the stretches and strains were kept to a minimum as the teams faced up in an 80 minute 11a side match. The coaching team moved through the gears seamlessly and raced into a 3-0 lead early in the first half before the parents began to find some momentum and take the game to our coaching team. Our coaches showed discipline and the odd bit of flair, but were matched by pacey, skillful and at times ambitious parents on a fast-paced afternoon of football. There was some awful goalkeeping (Coach Adam), a horrendous penalty (...Coach Adam) and a few moans and groans about injuries (... ... Coach Adam) during an intense game between two well matched sides.
Despite some controversy surrounding the final score (parents insisted it was 7-7, while coaches believe it to be 7-6 in their favour), the matter was settled on penalties in favour of the S4K coaches.
The result is irrelevant - the afternoon was fantastic and enjoyed by all who participated. We were extremely proud of everybody who took part and are looking forward to seeing everybody next time around - Sunday 17th May @ Charter's Leisure Centre in Ascot. Get limbering up!